Turkish-Serbian War, 1876
When Archibald Forbes was sent by the Daily News to cover the Turkish-Serbian War of 1876, he was joined by Frederic Villiers from The Graphic, who went on to become one of the best-known British war artists in the last quarter of the nineteenth century. Villiers caught up with Forbes, who was following the Serbian army, in Paraćin.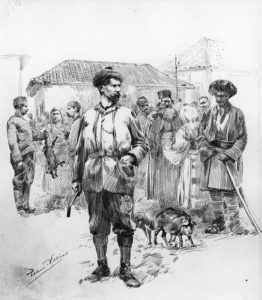 His description of the Daily News's Special – 'sauntering quietly along, elbowing his way through the motley crowd, …  a tall, well-built man in knickers and jacket of homespun, with tam o'shanter bonnet cocked over his handsome, sunburned face, a short cherry-wood pipe below his tawny moustache' (Pictures of Many Lands, 1902, p. 6) – is captured in his drawing, Archibald Forbes and others.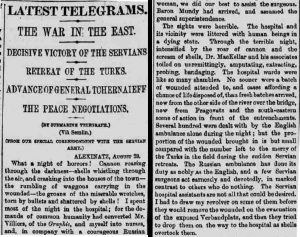 Forbes telegraphed a report for the Daily News from the fortress of Alexinatz graphically describing the Turkish bombardment of the town on 23 August.
The Graphic published a sketch by Villiers of retreating baggage-wagons and ambulance vans in Alexinatz on 9 September 1876 and reported the night being chronicled by the Daily News's Special Correspondent as a '"night of horrors", as, amid the roaring of the cannon and the crashing of shells, he, together with our artist, worked at the hospital most of the night, assisting the wounded, whose arrival from the front our artist has depicted' (p. 246).