In war and peacetime, the threats of censorship and bureaucratic interference were ever present. From the launch of his career as a Special Correspondent when he was sent to Russia for Household Words in 1856, Sala had to adapt his working habits to meet the exigencies of reporting from foreign (sometimes hostile) soil. Having discovered that his letters home were being opened, the decision had been taken that he would send no copy for Household Words until he was actually out of Russia. As he explained in the fifteenth installment of his correspondence, his practice while staying in St Petersburg was to 'make sketches of the strange things and people' he had seen on the streets:
Then I make manuscript transcripts of matters Russian that have been written on the tables of my memory during the day, on infinitesimal scraps of paper in a hand-writing whose minuteness causes me not to despair of being able to earn my living some day by writing the Decalogue within the circumference of a shilling. These, being desperately afraid – perhaps needlessly – of spies and duplicate-key possessors, I hide furtively in the lining of my hat.
('A Journey Due North', Household Words, 17 January 1857, p. 53).
Melton Prior had similarly stirring anecdotes to tell of confronting Turkish Press Censors, who had 'stopped many of his sketches', and were only overcome by his threat to return to England 'and publish what I had witnessed of much more disgraceful scenes' unless they desisted. More desperate measures were required on an assignment to make sketches of Dr Schliemann's archaeological discoveries in Mycenae in Greece when reportedly a Greek Officer suddenly appeared and attempted to confiscate his drawings. '[H]aving taken the precaution to arm himself', Prior relayed how he was forced to show his revolver and declare 'that he would use it rather than part with a single sketch' (Henry H. S. Pearse, The Sketch, 15 February 1893, p.146).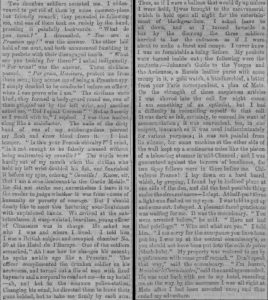 At times, they were overcome by the events they were reporting. The Correspondents who sought to report on the progress of the Franco-Prussian War of 1870 by attempting to follow the Imperial Army found themselves liable to be arrested as spies. John Augustus O'Shea, Special Correspondent for the Evening Standard, reported his own arrest in his letter published on 28 July 1870.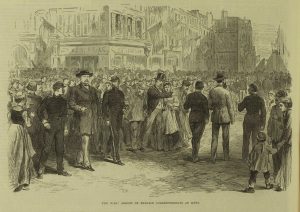 The spy mania spread and on 20 August 1870 the Illustrated London News published an illustration based on the sketch of its Special Artist, William Simpson, showing the arrest of four members of the London press: Mr Henry Mayhew and his son, Mr Stuart ('another newspaper correspondent who had just come from Italy') and Simpson himself. Famously, the resourceful artist noted that he took the precaution of sketching on cigarette paper, so that if he found himself arrested again, he could simply smoke the evidence away 'before the eyes of my captors' (Notes and Recollections of My Life, 1889, p. 296).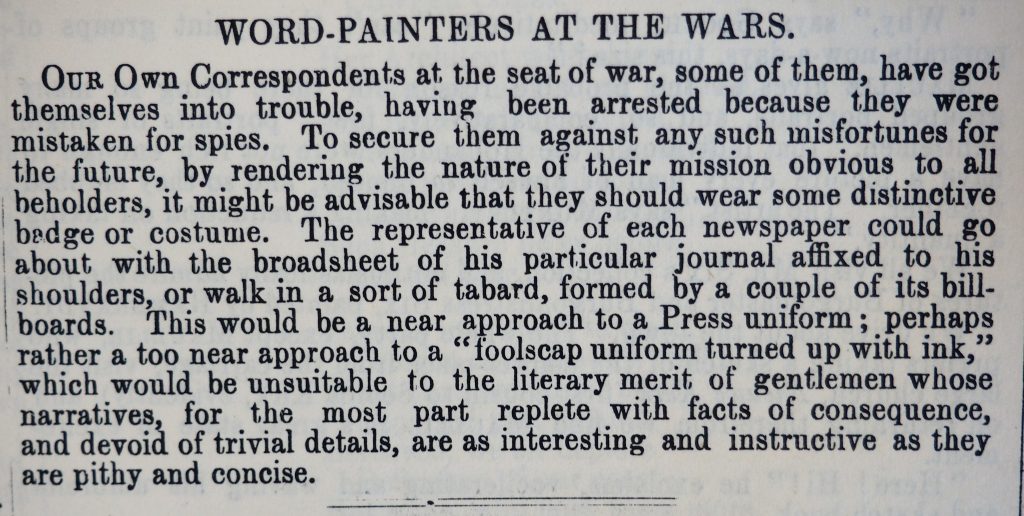 Punch made light of the plight of the Specials in France in this paragraph advising them to adopt a distinctive 'Press uniform'. But the Graphic, whose artist, Sydney Prior Hall, 'had the experience of both French and Prussian captivity' (10 September 1870, p. 258) made clear it was a serious problem – with their Special Correspondents conceding it was worse for the artists than themselves:
Special Correspondents here complain of the hardship of their lives, of their being harried by cocked-hatted gensd'armes [sic], son officers, & even private soldiers, the whole army apparently having constituted themselves a Vigilance Committee at the expense of gentlemen of the Press; but it strikes me that we are living in clover in contrast with our confreres the artists….[they] are in a much worse case: a note-book is a necessity of his existence, and it is also an excellent passport to a military prison.
('The French Army at Nancy', Graphic, 6 August 1870, p. 147)