16th-18th century London
Drawing on the research conducted by our International Co-Investigator, Coll Thrush, for his book, Indigenous London, this map shows a range of Native North American visitors to, and residents in, London throughout the 16th, 17th and 18th centuries. Click here to explore.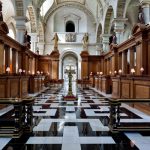 Indigenous London story maps
Created by our Principal Investigator David Stirrup and based on research by our International Co-Investigator Coll Thrush, these story-maps allow you to take virtual walking tours of sites of Indigenous North American history in London.
Click on the links below to explore different virtual routes.