Current Academic Year
ADA University flagship training course: "Caspian Basin" studies 13-20 November 2021
ADA University be organizing its annual flagship training course on "Caspian Basin" studies in Baku for the representatives of foreign think tanks and academic/research institutions.  Deadline for nominations is October 10.  All costs will be covered by ADA.
Details of the studies program is available here;  Application form can be downloaded here.
2020-2021
GCRF COMPASS Early Career Researcher Training School "Human Security in a Globalizing World", 15 – 19 February 2021, ADA University, Baku, Azerbaijan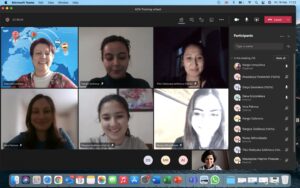 The 3rd Early Career Researcher's Training School (TS) on "Human Security in a Globalizing World" was organized and hosted between 15-19 February 2021, by ADA University's Centre of Excellence in EU Studies under the aegis of the GCRF COMPASS Project and Jean Monnet Chair Dr Anar Valiyev. The TS has been tailored to offer an opportunity for research development, capacity building, exchange of ideas and network-building for PhD and postdoctoral students working in the field of security. Security phenomenon from broader approaches has been reviewed during the week, while considering security threats where the security landscape is influenced by and has possible implications across different sectors such as the economy, the environment, geopolitics, migration, gender equality.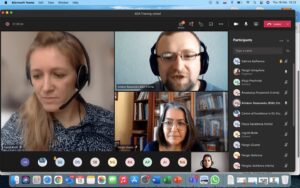 Conducted digitally this year, the international Training School has brought together participants and experts from Azerbaijan, Belarus, Tajikistan, UK, US and Uzbekistan. Insightful and engaging programme included presentation and discussion of papers submitted by the selected participants by appointed discussants, skill workshops by senior scholars and keynote lectures by the leading experts in the field. The list of the prominent international experts who have enriched the discussion throughout the week include but is not limited to Professor Mary Kaldor, an Emeritus Professor of Global Governance and Director of the Conflict Research Programme in LSE IDEAS at the London School of Economics and Political Science, Jean Monnet Chair Dr Anar Valiyev, Dean and Professor at ADA University, Professor Elena Korosteleva, Principal Investigator of the GCRF COMPASS and co-founder/ co-director of the Global Europe Centre at University of Kent, Dr Farid Shafiyev, Ambassador and Chairman of the Centre of Analysis of International Relations, Dr Mary Martin, Director of the UN Business and Human Security Initiative at London School of Economics and Political Science. The programme of the TS can be found here.   The videos of the sessions can be found here and the additional information about the participants is available here.
2019-2020 Academic Year
GCRF COMPASS Early Career Researcher Training School "Good governance and effectiveness of public institutions in Post-Soviet Eurasia", 17 – 21 February 2020, ADA University, Baku, Azerbaijan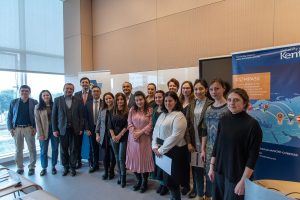 The COMPASS Early Researcher Training School (TS) under the aegis of the GCRF COMPASS Project took place in Baku from 17-21 February 2020 and was organised by ADA University's Centre of Excellence in EU Studies. The TS offered an opportunity for research development, training, exchange of ideas and network-building for PhD and postdoctoral students working in the field of governance studies. The overarching theme of the TS was 'Good Governance and Effectiveness of Public Institutions in post-Soviet Eurasia'. 20 participants presented their work, and participated in a range of skills workshops and lectures. The TS programme can be found here
Leadership Winter Training School Programme in Solving Global Challenges at Cambridge, 9 – 19 February 2020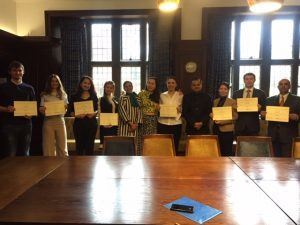 GCRF COMPASS Cambridge ran a successful training school for participants from across the partner countries and globally from 9-19 February 2020. The ten days programme focused on global challenges of climate change, health and the economy. Senior faculty from across the University of Cambridge along with GCRF COMPASS PI Prof Korosteleva (Uni of Kent), COMPASS Affiliate lecturers Dr Radivojevic (UCL), Dr Lombardozzi (Open University, UK), COMPASS PDRAs Dr Petrova and Dr Kudaibergenova, Mr Honma (Former Head of EBRD Central Asia), S. Mowlds ( UNDP, GATES Foundation and Brookings Institute) among others gave insightful talks and led discussions on energy consumption, SDGs, IFIs, science and its role in development, material culture and history, food security and the Green Revolution.The participants completed four exercises including a project presentation which showcased original research. The full programme can be found here.
2018-2019 Academic Year
COMPASS Research Training School during 2018 – 2019
The project ran four research training schools during the academic year 2018 – 2019. The first of these was held in Baku, Azerbaijan and taught by members of the BSU team on the theme of 'How to prepare a successful project proposal'. ADA University also hosted the training school on research methodology. Two more training schools followed: Research in Action in Bukhara in April and the GCDC early career researcher training school at the University of Kent in July.
GCRF GCDC Early Career Researcher Training School "Governance, resilience and order: Eurasia and beyond, under the pressure of global and regional change", University of Kent, Canterbury, 2 – 6 July 2019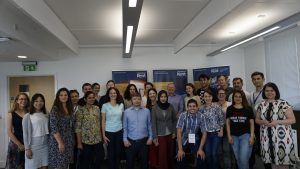 The first international Training School for Early Career Researchers organised by the GCRF Global Challenges Doctoral Centre (University of Kent) and the GCRF COMPASS project took place between 2nd and 6th July 2019. A total of 25 Early Career Researchers (ECRs) participated, with 14 researchers from the project consortium.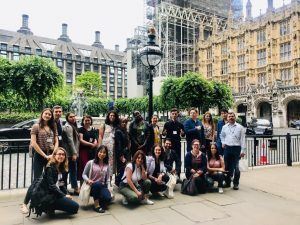 Participants had been asked to submit their research papers prior to the training school (TS) in preparation for in-depth discussion and feedback. In addition to these panel exercises, they attended four skill training sessions: Networking for success (Giles Polgase, CCCU), Publishing Internationally (Fragkiskos Filippaios and Sara Slow, University of Kent) and Fieldwork funding ((Sarah Tetley and Alexandra Leduc-Pagel, Univeristy of Kent). The fourth skills session took place at the offices of Rowman & Littlefield Publishers International and was titled 'Publishing your PhD thesis as a book' (led by Gurdeep Mattu) and followed the group's visit to the UK Parliament in London on Day 2. The TS concluded with a certificate giving ceremony.
Participants were invited to submit revised versions of their research papers (taking into account comments from the feedback sessions) to the Working Proceedings which are expected to be finalised by early September 2019. They will be made available on the University of Kent and GCRF COMPASS websites and a limited number of printed copies will be available to authors.
Feedback about the TS was generally positive, with most researchers finding the panel training sessions especially useful as they provided an opportunity to present their work and receive constructive feedback. The networking and social dimensions were also much appreciated resulting in lasting contacts between participants.
GCRF GCDC Training School Programme
GCRF GCDC Training School Working Report
GCRF GCDC Training School Video
COMPASS "Research in Action" Bukhara Training School, Uzbekistan 8 – 11 April 2019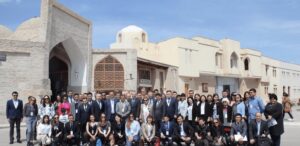 GCRF COMPASS Cambridge together with The Coordination and Methodological Centre on Contemporary History under the Uzbekistan Academy of Sciences organised a three day workshop entitled 'Research in Action' on 8-10 April 2019. It was designed to engage with varied research cultures, interdisciplinary research, and methodologies of research while considering the most current concerns in Central Asia, wider Eurasia and globally. It was organised with support from the Embassy of Uzbekistan in the UK, Academy of Sciences of Uzbekistan, the Academy of the General Prosecutor's Office of Uzbekistan, and the Institute of Contemporary History under the Academy of Sciences in Uzbekistan, University of World Economy and Diplomacy. The training school provided the basis for research capacity building, a core goal of the COMPASS project, in academia, government and media. It focused on research methodologies across development paradigms and encompassed sustainability, multilateralism, scientific and cultural diplomacy, international relations, political economy, industrial policy and technology, science and education amongst other areas.
The training school met the requirements of the key goals of the COMPASS project, namely
to provide a platform for researchers and students working on and in the region to exchange ideas and information on critical issues of Central Asian and Eastern Neigbourhood transformation processes;
to engage key  stakeholders  throughout  the world  in  the  development  of  and participation  throughout  the  programme,  especially  those  most  engaged in Central Asia and Eurasia region, its  educational processes, research and renovation;
to stimulate creative dialogue among scholars and students;
to further Central Asian context and ideas, development of nations and shaping individuals;
to engage students in research world and show opportunities to improve their skills and knowledge (Capacity building);
Student individual research projects / Student presentations, workshops.
GCRF COMPASS Training School Programme
Media coverage:
http://www.uzdaily.com/ru/post/42934 (Russian) 
http://www.uzdaily.com/en/post/49019 (English)
British Parliamentary Debate Training School, BSU, 8 April 2019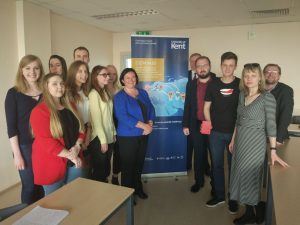 A Training School on British Parliamentary Debate was run by Baroness Suttie on 8th April 2019 at BSU for the BSU Student Debating Society. In addition to a mock parliamentary debate, she adjudicated a game on EU-related topics and shared valuable advice on preparing for public debating.
Early Career Researcher Training School, ADA University, 25 February – 2 March 2019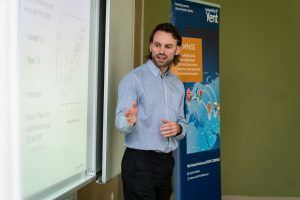 ADA University Center of Excellence in EU studies conducted its 1st Early Career Researcher Training School on Research Methodology from 25th of February to 1st of March 2019 within the framework of the COMPASS project in partnership with University of Kent, UK. The main objective of the program was to offer an opportunity for further skills development on research methodology and exchange of ideas for Doctoral and Postdoctoral students and early career researchers from across major higher education institutions of Azerbaijan.
The training was conducted by Dr. Erik Larsen, Lecturer at University of Kent and Dr. Anar Valiyev, Dean of School of Public and International Affairs, ADA University. This year's School focused on overview of data collection methods and sources, challenges in accessing relevant data on Azerbaijan, basics of statistics, regression analysis, statistics with SPSS.
The programme can be found here
Joint ADA/BSU Funding Workshop – How to Prepare a Successful Project Proposal, 10 – 23 November 2018, Baku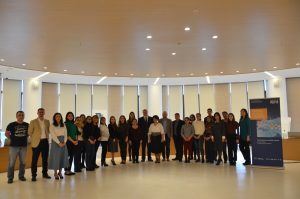 HEI Training Workshop, "How to prepare a successful project proposal" was conducted at ADA University, in Baku, Azerbaijan by the COMPASS BSU team. The workshop aimed at building basic competencies of project design and writing including problem identification, target groups analysis, understanding Logical Framework Matrix approach, applying ICT skills for project planning and budgeting, text writing and grant application management, resulting in workshop participants' developing their own bids. The workshop also reviewed requirements for existing EU programmes such as Erasmus+ and Jean Monnet. Participants included staff and academic faculty of ADA University and other HEIs in Azerbaijan, COMPASS Project participants from TNU (Tajikistan) and UWED (Uzbekistan). The full programme can be found here.