Official COMPASS launch in Minsk , 22 – 23 May 2018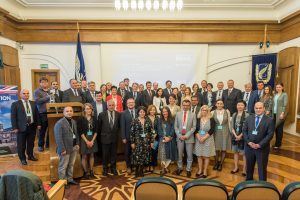 The official  launch of the GCRF-COMPASS project took place in the 'Red Building' of Belarus State University in Minsk on the 22nd of May and hosted more than 60 delegates including members of all partner institutions, Advisory Board members, GCRF Project Officer, representative from the Belarus Ministry of Education, Parliament, Presidential Administration and ERASMUS+ students and staff of the Belarusian State University. The project received a warm welcome from the PVC Internationalisation, Professor Sergey Khodin, and was also covered widely on national TV, press and social media.
Project and Advisory Board members met again the following day for detailed discussion and planning of the work in the first year.
Informal Project Launch, London, 29 November 2017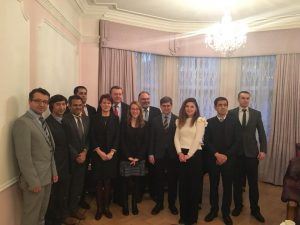 On 29th November 2017, the Kent and Cambridge teams met with the four Ambassadors from the project's partner states. The meeting was hosted by the Belarusian Embassy in London. The meeting was an opportunity to introduce the project's aims as well as to discuss the main areas of interest for Azerbaijan (Ambassador Taghizadeh), Belarus (Ambassador Aleinik), Tajikistan (Mr Qurbonov) and Uzbekistan (Ambassador Shaykhov). We were also joined by two members of the Minsk Dialogue Track-II Initiative, Yauheni Preiherman and Dzianis Malyantsou. During the meeting we considered how the different interests could be aligned, and what concrete initiatives we could cooperate on in the next four years.
Informal Project Launch, University of Kent, School of Politics and International Relations, 6 November 2017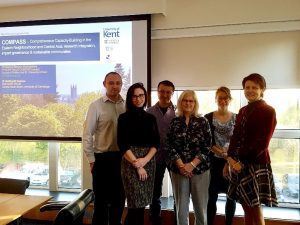 Professor Elena Korosteleva invited her colleagues at the School of Politics and International Relations to celebrate the launch of the COMPASS project. Head of School, Professor Richard Whitman, congratulated her for achieving one of the largest grants the School had ever received and wished her and the partners every success. Professor Korosteleva took the opportunity to thank her team and colleagues in the School and in Research Services for the support she received throughout the application process and was looking forward to the challenge ahead.
1st GCRF COMPASS project meeting, Cambridge, 5 October 2017
University of Kent and University of Cambridge COMPASS members met for the first time in Cambridge to discuss the way ahead for the project. Whilst the work described in the proposal outlined the overall aims and objectives of COMPASS, more detailed discussions were necessary to define work package content, the roles of project partners and how they interact in the project. These discussions will be ongoing throughout the project and the Cambridge meeting was a useful occasion to establish a baseline from which to go forward.
GCRF RCUK Launch, London, 21 July 2017
Leading experts from the UK and in developing countries across the world are joining forces to tackle some of the most serious global challenges in a new multi-disciplinary research programme launched today. In one of the the most ambitious international research programmes ever created, £225 Million has been invested across 37 interdisciplinary projects to address challenges in fields such as health, humanitarian crises, conflict, the environment, the economy, domestic violence, society, and technology. The Global Challenges Research Fund (GCRF) Research Councils UK Collective Fund is supporting projects in the range of £2 – 8 million over four years. It aims to build upon research knowledge in the UK, and strengthen capacity overseas, to help address challenges, informed by expressed need in  developing countries