2020 – 2021 Academic Year
Policy training 2020 – 2021
On 21 April 2021, COMPASS Project organised policy training to the students of partner Universities, leading on the COMPASS Policy Communique (CPC) initiative.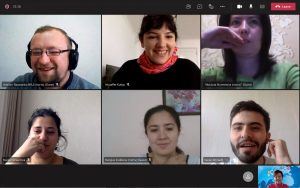 The workshop was conducted by Dr Muzaffer Kutlay @Kent and Dr Artsiom Nazaranka, NTL BSU lead, with an introductory word from Prof. Elena Korosteleva, PI of the project. The workshop focused on the methods and forms of collecting policy news and other relevant information, and their presentation in a form of a brochure for policy stakeholders in the UK, Europe and Central Eurasia
2018 – 2019 Academic Year
Policy training 2018 – 2019
Two policy training sessions took place at the end of January: an intensive five-day event focusing on the EU and its relations with Central Asia and the Eastern Neighbourhood and a one-day workshop led by members of the UK Foreign and Commonwealth Office.
FCO Policy Impact Training Seminar, 29 January 2019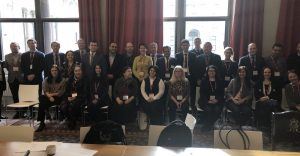 On 29 January, the GCRF COMPASS project partners and delegates took part in the policy impact training seminar organised by Laurence Broyd, COMPASS Advisory Board member and Senior Principal Research Officer at the FCO. This workshop included policy impact discussions  – how it is done in the UK and the region – with Q&A and an interactive session, led by Tom Croft, Senior Policy Planner. The panel speakers – Patrick Holdich (Head of Research Analysis), Cornelia Sorabji (Counsellor Strategy and External Enterprise), Matt Carter (Senior Advisor, GPI), and Kadri Liik (ECFR) – provided their own insights on how to extend impact of academia on policy decisions, and the role of various actors in shaping the UK's domestic and foreign policies. In tandem with this, the COMPASS project also held its 1st AB meeting, with five members in attendance, to discuss the project's progress and receive feedback for its development.
B.EST: Brussels Executive Study Trip, 20 – 26 January 2019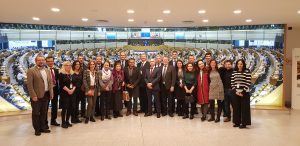 On 20-26 January 2019 the COMPASS project organised an Executive Study Trip to Brussels for the partner-countries. This event was held at the Press Club, in the heart of Brussels, bringing together top-level delegations from across the Consortium for five days of training and networking: partner-HEI representatives, affiliate academics and ministry officials from Azerbaijan, Belarus, Tajikistan, Uzbekistan, as well as UK Universities – Cambridge and Kent. The attendees of this landmark event met high-level EU officials and practitioners to exchange ideas and learn more about EU decision-making, negotiations, lobbying, trade, funding and tender opportunities, scientific cooperation and strategic priorities for the Eastern neighbourhood and Central Asia. The event was organised with the assistance of EUpportunity, to whom the COMPASS project extends its gratitude for excellent organisation and handling of the event! The full programme can be found here.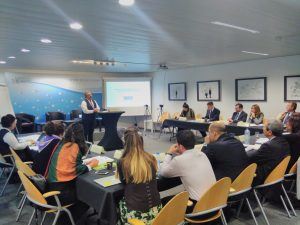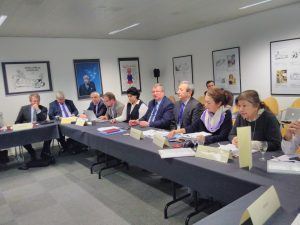 Negotiation training at B.EST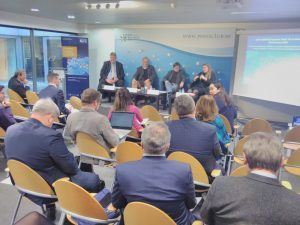 Panel with journalists at B.EST
National Team Leaders share their reflections
Nargiz Ismayilova, National Team Leader, ADA University:
Artsiom Nazaranka, National Team Leader, BSU:
"B.EST was extremely useful for those with little prior knowledge about EU institutions and decision-making process in Brussels. This week became a platform for learning, networking and engaging with new opportunities for ADA university.

 FCO Policy impact seminar was an excellent opportunity to discuss linkages and learn more about possible connections between academia and policy-making. While it seems obvious that there should be a policy impact of research, the process itself is not as simple as we initially thought!"

B.EST was supposed to be a straightforward study trip, but thanks to the Kent team and Eupportunity, it went far beyond our expectations – offering a mixed bag of briefings, training, networks and mini-policy forums.

BSU delegation included deputy head of unit from Belarus' Ministry of Economy who of Belarus for whom this experience was invaluable, especially in the advent of Belarus assuming the EEU chairmanship next year!

Prof Sherzod Abdullaev, National Team Leader, UWED:
On behalf of the University of World Economy and Diplomacy I would like to express my sincere gratitude to the University of Kent, the University of Cambridge and all our partners in the COMPASS project for organising these fabulous events in Brussels and London. Even though, I could not take part in these special events due to my other prior commitments, I can sincerely assure you that I was with you in my spirit and thought. Our team members who visited Brussels and London underlined a great success of the held sessions in all possible respects".