VII International Conference "Primakov Readings", held in Moscow on June 8-10, 2021
Report from Ulugbek Khasanov
On June 8-10, 2021, the VII Primakov Readings were held in Moscow and were devoted to the analysis of modern challenges to the world order. Primakov Readings is an international forum of experts, diplomats and politicians dedicated to the memory of the scientist and statesman, Academician E. M. Primakov. The purpose of the forum is to create a regular international discussion platform for public discussion of the most pressing problems of the world economy, politics and international security with the participation of leading representatives of international research and expert-analytical centers. The idea of holding the Primakov Readings belongs to the President of the Russian Federation, Vladimir Putin, who initiated and opened the Forum in 2016. Chairman of the Organizing Committee-Assistant to the President of the Russian Federation Yu.Ushakov. The Forum is known for its high representation and significant academic and practical share for shaping the understanding and development of the basic principles of public diplomacy in modern World.
The 7th session of the current Forum, held on June 9, 2021, was dedicated to the theme 'Central Asia at the crossroads: Competition or partnership?' The moderator was Sergey Lebedev, Chairman of the Executive Committee – Executive Secretary of the CIS. The speakers were: Eldor Aripov (Director of the Institute for Strategic and Interregional Studies under the President of the Republic of Uzbekistan), Kairat Kelimbetov (Chairman of the Agency for Strategic Planning and Reforms of the Republic of Kazakhstan), Nandan Unnikrishnan (Honorary Researcher of the Indian Research Center Observer Research Foundation, New Delhi), Stanislav V. Zhukov (Deputy Director for Scientific Work of IMEMO. Primakova RAS, Doctor of Economics), Irina Zvyagelskaya (Head of the Laboratory "Center for Middle Eastern Studies" IMEMO RAS, Doctor of Economics, Professor).
In his speech, Aripov noted that the strengthening of partnership between the countries of the region began in 2017 at a conference in Samarkand, where a communique was signed on the intention to resolve disputed issues through compromise. As he stressed, this was also helped by the new regional policy of the President of Uzbekistan, who decided to reverse negative trends and prejudices. Many issues were resolved with Tajikistan and Kyrgyzstan on water use, border delimitation and demarcation, and energy exchange. A completely new political atmosphere has emerged in the region. He also drew attention to the fact that a trend has been formed for the development of regional industrial cooperation. Today, about 60 million people live there, and a new consumer market is maturing in the region, which is not yet fully open to the world economy, the panelist noted. «In 2020, there was a decline in regional trade, but from 2016 to 2019, it increased by 56%. Uzbekistan's trade turnover with these countries has doubled. The inflow of foreign investment to Central Asia increased by 40%. The region's share of total investment in the world increased from 1.6% to 2.5%. The number of foreign tourists has doubled. We are finishing negotiations on the Silk Visa with Kazakhstan: tourists will be able to freely visit Uzbekistan and Kazakhstan" Aripov said.
The Central Asian countries do not face the choice of competition or partnership, just as they do not choose between Russia and China, said Irina Zvyagelskaya, head of the Center for Middle East Studies at IMEMO RAS. She drew attention to the fact that the region is interested in a transport and logistics breakthrough to new markets, primarily in South Asia. Afghanistan is not only a problem, but also a new opportunity, if the situation stabilizes. A big role, in her opinion, can be played by Russian railways, which are participants in the construction of a route through Afghanistan. They plan to join the project "Kyrgyzstan, Uzbekistan, China".
President of the Agency for Strategic Planning and Reforms of the Republic of Kazakhstan Kairat Kelimbetov spoke about the achievements of the countries of the region in the field of transport logistics. As he noted, within the framework of the "One Belt — One Road" project, thousands of kilometers of railways were built that connected the border of China in the direction of Russia and the ports of the Caspian Sea. This allows us to interact with the world's largest economies-the EU and China. The trade between them amounts to $ 700 billion. In his opinion, in 10 years the region will attract about $ 70 billion. The opening economy of Uzbekistan and the liberalization of foreign trade force a new look at the whole of Central Asia.
Minsk Dialogue Virtual Forum 'The Belarus Crisis: Mapping the uncertainty in regional security, 25-27 November 2020, in strategic partnership with the GCRF COMPASS project and Konrad Adenauer Foundation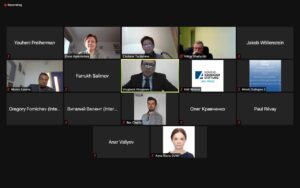 The year 2020 has shaken the world. The COVID-19 pandemic has brought tremendous shocks to all parts of the globe and has disrupted international relations on a scale unprecedented since World War II. Besides the direct damage that the pandemic has caused to global health and economy, it has aggravated various preexisting national and international problems and accelerated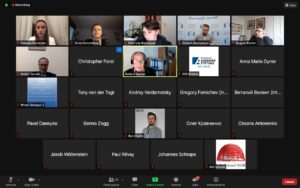 transformational processes in the international system. As a result, the whole world has plunged into great uncertainty. Belarus is one of many examples of the pandemic's disruptive effects at a national level. While only a while ago it appeared one of the most politically stable countries in Eastern Europe, today Belarus finds itself amidst a dramatic political crisis. Although its causes are multifold, the state's and society's reaction to the pandemic became a decisive catalyst. Without a doubt, the Belarus crisis will have serious implications not only for the country's internal development and foreign relations but also for regional security. In recent years, Minsk has played a constructive regional role by offering itself as a neutral venue for peace talks and promoting security initiatives, which aimed at de-escalating military and political tensions between the East and the West. If Belarus is no longer able to perform such a role, regional actors should brace themselves for even more uncertainty already in the months to come. Under these exceptional circumstances, the Minsk Dialogue Virtual Forum offers a geopolitically unbiased platform where some of the brightest minds from the international expert community will engage in a frank discussion about the multiple crises unfolding in front of our eyes and their implications for regional security. While we are unable to fully solve uncertainty, the Forum will map out possible routes towards international cooperation for the sake of peace and stability in Eastern Europe and wider Eurasia. This year, the virtual forum will focus on the following main topics:
● The Belarus crisis: What implications will it have for security in Eastern Europe and Wider Eurasia, as well as for Minsk's relations with Russia and the West?
● The World HandCOV'd: How will the pandemic reshape international institutions and key state actors in Euro-Atlantic and Eurasian security?
● Eastern Europe and Central Eurasia in 2021: Strategic stability and challenges for regional security.
This made it a forth forum in the history of this event, which brought together over 200 participants from around the globe and which successfully accommodated so many different time zones – from China to the USA! It also hosted an envious and esteemed range of speakers who explored the implications of Belarus Crisis for the region and the world. It also explored the crisis implications for Central Eurasia, which included members of the GCRF COMPASS and GCRF GOOD-Neighbour consortia: Prof. Victor Shadursky (BSU); Prof. Siddharth Saxena (University of Cambridge); Prof. Anar Valiyev (ADA University); Prof. Cholpon Turdalieva (AUCA); Prof. Farrukh Salimov (TNU) and Prof. Ulugbeck Khasanov (UWED), with Prof. Elena Korosteleva acting as moderator. For more information please see the programme here, and the links to the event here.
The forum output can be found here
"The new national policy report initiative" 
'The Belt and Road Initiative and the Eurasian Economic Union have been extensively discussed in academia and policy circles. These discussions have mainly focused on China's and Russia's strategic goals and objectives. However, the broader region's perspective is largely missing in these discourses and reports. In line with this view, COMPASS will produce a series of policy briefs on the specific countries affiliated with the project (Azerbaijan, Belarus, Uzbekistan, and Tajikistan). Experts from our partner institutions, affiliated with the respective governments, will contribute to these briefing papers with the purpose to generate reports on their own government's policy lines and directions towards these two grand strategies. They will also provide policy recommendations to the UK and EU policy-makers. This will be disseminated to a broader audience.'
Minsk Dialogue Policy Forum: European Security: Stepping back from the Brink, 7th October 2019, Minsk, Belarus
7 – 8 October 2019 saw the 2nd year of the Minsk Dialogue Policy Forum, which was organised in partnership with the COMPASS project, the support from BSU and MFA. It attracted over 700 academics, policy-makers and practitioners from 61 countries, which is a 1.5 increase in interest and participation since 2018!
This year the forum focused on the theme of "European Security: Stepping back from the Brink", covering relations with major powers, the role of international organisations, regional conflicts development across Central Eurasia, and relations between competing initiatives from the EU, EAEU and BRI [for full programme visit here]. COMPASS project hosted two plenaries – Plenary One "European Security: Can we stop confrontation?" with Viacheslav Nikonov, State Duma, Russian Federation; Dirk Wiese, Bundestag Germany; Istvan Balogh, State Secretary MFA, Hungary; Alexis Lamek, Deputy DG MFA France; Brad Freden Department of State USA; and Dr Huseynov, MFA Azerbaijan. Plenary Two focused on "EU-EAEU-BRI: Any real areas of mutual interest?", hosting Lord Teverson, COMPASS AB member; Sun Li, Chinese Academy of Social Sciences; Alexey Gromyko, Institute of Europe RAS, Russia; Tony van der Togt, Clingendael, Netherlands; Suren Sargsyan, Armenia; and Eugene Chausovsky, Stratfor, USA. Furthermore, a special panel on "Central Asia: Security and power challenges in Wider Eurasia" brought together members of the COMPASS consortium including Shafag Mehraliyeva (ADA University); Aleksandr Baichorov (BSU); Nilufar Rakhmatullaeva and Alisher Rakhimov (UWED); Kholahmad Samieve (TNU), under the moderation of Roza Turarbekova (BSU).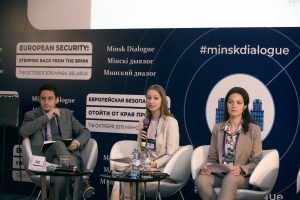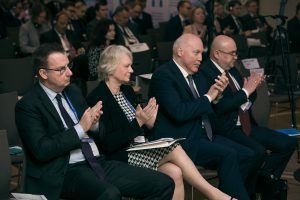 The new feature of this year's forum was the Future Leaders Session, bringing together 16 young participants from the COMPASS consortium (Kent, Cambridge, BSU, ADA University, TNU and UWED) and European Leadership Network. Our young leaders worked hard on their individual statements and a joint Declaration on the eve of the forum, which they presented at the opening of the Forum, describing major challenges for the regional security and their possible solutions. The session received positive feedback from the UK, EU and Russian Ambassadors – Their Excellences Jaqueline Perkins, Dirk Schuebel, and Dmitry Mezentsev – and Valery Varanetsky, MP Belarus. The Declaration will be included in the MD forum policy paper, to be disseminated to all major UK, EU and national stakeholders of the forum. For more information please visit the websites below.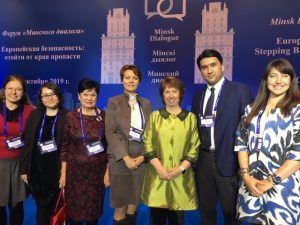 Day 2 of the Forum included a presidential plenary, with President Lukashenko, Baroness Ashton and Mr Vershbov among others. Baroness Ashton, who also attended the Future Leaders Session earlier, was very pleased to have a photo with the COMPASS young leaders, after her morning speech.
Another year of success, and policy impact, translating COMPASS research into policy impact and outreach. Sincere thanks go to the MD organisers – Yauheni Preihermann and Artsiom Nazaranka from COMPASS BSU; all our Future leaders and Zach Paikin in particular; and of course COMPASS biggest supporters – Lord Teverson and HE Jaqueline Perkins!
For more information visit here:
http://minskdialogue.by/en/media/minsk-dialogue-forum-2019-day-1
http://minskdialogue.by/en/media/minsk-dialogue-forum-2019-day-2
https://www.tvr.by/eng/news/politika/minskiy_dialog_sobral_ekspertov_diplomatov_i_politikov_bolee_chem_iz_60_stran/
https://www.facebook.com/100000735386281/posts/2711466102221209?sfns=mo
https://www.tvr.by/eng/news/obshchestvo/v_minske_startuet_forum_evropeyskaya_bezopasnost_otoyti_ot_kraya_propasti/
Full details of media coverage
2018 – 2019 Academic Year
London Forum, 28 January 2019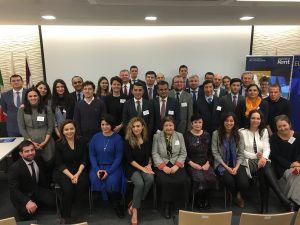 On 28 January, the GCRF COMPASS project organised its landmark event – the London Forum. This event brought together high-ranking academics, including Vice-Chancellors and PVCs, and practitioners from Belarus, Azerbaijan, Uzbekistan, Tajikistan, and UK Universities – Cambridge and Kent, to engage with UK government officials, policy-makers, funders and practitioners. The forum provided opportunities for networking, and exploring options for further cooperation on different levels of resilience-building – institutional, educational, community, economic, energy and security. The diverse and dynamic group of speakers and panellists provided an in-depth insight, as well as, actionable and practical tools for engagement. More information can be found here.
National Team Leaders share their reflections:
| | | |
| --- | --- | --- |
| Prof Munira Shahidi, National Team Leader, TNU: |   | Artsiom Nazaranka, National Team Leader, BSU: |
| "As TNU team leader and professor in the Department of International Affairs, I was delighted to learn many things… Discussions in London Forum and FCO in particular opened for me new perspectives on research integration, as well as impact on governance and sustainable communities, in Tajikistan and wider. The most important realisation of all is that there is still curiosity and wish to understand and learn more about each other. I hope the Forum on intercultural communication in Tajikistan, which is planned in Dushanbe in 2020, will continue in that lively and open format". |   | London Policy Forum, including the FCO was a great success too given level of participants and quality of discussions. It clearly brought right people from the right backgrounds in the right place and the right time! Special thanks for the level of Parliament involvement – simply great! – and for amount of opportunities for informal networking – cannot be overestimated! I'm particularly happy that London Forum was extended to also include visits of BSU Rector Professor Andrei Karol to our partner universities – Cambridge and Kent – to discuss details of further opportunities for cooperation. And while in Kent, a new Erasmus+ exchange agreement with Kent was signed! A huge success!" |
|   |   |   |
| Prof Sherzod Abdullaev, National Team Leader, UWED: |   |   |
| On behalf of the University of World Economy and Diplomacy I would like to express my sincere gratitude to the University of Kent, the University of Cambridge and all our partners in the COMPASS project for organising these fabulous events in Brussels and London. Even though, I could not take part in these special events due to my other prior commitments, I can sincerely assure you that I was with you in my spirit and thought. Our team members who visited Brussels and London underlined a great success of the held sessions in all possible respects". |   |   |
1st Regional Policy Forum – Minsk Dialogue 'In Search of Security for All', 23 – 25 May 2018
COMPASS also supported the Minsk Dialogue policy forum through a reception and participation of partner team members in a number of panel and break-out sessions as well as a keynote address by Baronnes Suttie, member of the House of Lords and the COMPASS Advisory Board. One of the core activities of the project is to maximise policy impact at regional and international levels and the forum attracted over 600 experts and policy-makers from 50 different countries. The Minsk Dialogue was opened by Minister of Foreign Affairs, Vladimir Makei, and was attended by President Lukashenko, and major Ministers, and EU policy-makers. The project's PI, Professor Korosteleva, was interviewed for a Prime Time National TV channel, of which an excerpt is available here.