Leeds Museums and Galleries
Leeds Museum and Galleries
Leeds Museums and Galleries, Leeds Discovery Centre, Leeds, LS10 1LB
museumsandgalleries@leeds.gov.uk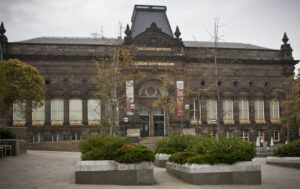 Leeds Museum and Galleries' World Cultures collection consists of around 14,000 items and includes material from North, South and Central America. Of this, around 300 objects are from North America and includes a range of flint tools, beadwork, clothing and weapons, model canoes and kayaks.
Highlights include a Sioux or Lakota shirt, an Inuit charm doll, and a Haida wooden chest.
Please contact the museum well in advance of your visit to ensure that access to collections is possible.
HIGHLIGHTS (Images copyright of Leeds Museums and Galleries)