Launch of GCRF COMPASS – REES/OSGA Oxford partnership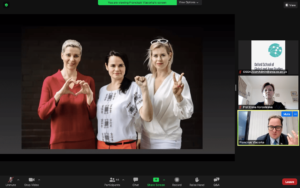 On 21 October 2021, Prof. Chris Gerry, PI and Head of OSGA, and Prof. Elena Korosteleva COI, launched a series of Oxford Belarus Observatory (OBO) webinars on Belarus, the first of a number of OBO initiatives. More information on OBO events is available on the OBO webpage.
Professor Khaydarali Yunusov from UWED has been awarded a prestigious Jean Monnet Center of Excellence project in September 2020. He said: ' This successful application is a breakthrough for our university, and at the same time, a well-deserved recognition of our research focus and scientific capacity'. The UWED`s Tashkent Jean Monnet Center of Excellence intends to be a focal point for competences and knowledge about the European studies in Uzbekistan. The Project combines the three type of activities in the field of EU studies: teaching, research and awareness raising dissemination through open public debates and publications. It offers a new, more institutionalized, centralized, and specialized form of European studies for the Uzbek academic world.
This project also capitalises on the achievements and results of the previous JM projects in 2009-2019 (Module, Chair, and dedicated Projects). It also allows the UWED to take the next step towards more integrated academic cooperation with partner universities (JM chairs, CoEs) and a worldwide Jean Monnet Networks platform. During the project lifetime we envisage 48 events: 36 roundtables, 6 conferences, 3 international summer universities and 3 annual competition for the nomination "The best research paper in EU studies". Altogether 30 trans-border mobility partnerships 84 publications (textbooks, collection of conferences` materials, monographs and periodicals) will be developed.
Launch of the Centre for Eurasian and European Research, Faculty of International Relations, Belarusian State University, led by Professor Roza Turarbekova. The Centre is a spin off initiative of research collaboration with the COMPASS Project with a key research focus on Eurasian Integration (including the Eurasian Economic Union) and the presence of China (BRI 2.0) in Eastern Europe. The Centre is preparing a series of initiatives for funding, with the support of the COMPASS project. The Centre also hosts a lively FB page, available here
Cooperation with a new  Centre for Expert and Analytical Studies & NGO 'Tahlil', Tajik National University, led by Dr Farrukh N. Salimov
Cooperation with the Innovation and Scientific Research Centre, Tashkent (Uzbekistan) led by Shakhboz Akhmadov
Cooperation with Eurasian Research Institute in Almaty, Kazakhstan, under the leadership of Professor Gulnar Nadirov and  Dr Albina Muratbekova.