Visit to the Cabinet Office, 14 August 2019, London
Over the summer Professor Elena Korosteleva was invited to assist the Cabinet Office, UK government in the development of a new strategy towards Belarus and Central Asia, as part of the COMPASS project. In a subsequent impact letter addressed to Professor Korosteleva, Mr Harrison, Director of Assessments Staff, Cabinet Office noted: 'Without [your] expertise… we would not be able to deliver such comprehensive advice to the highest levels of decision makers in government. We were also very interested to hear more about the COMPASS program, which sounds like a worthwhile and interesting project we would like to remain updated on'.
Visit to the Foreign and Commonwealth Office, 15 July 2019, London
Professor Elena Korosteleva (Kent) and Yauheni Preiherman (BSU COMPASS) were invited by the Foreign and Commonwealth Office to brief the UK Ambassador-Designate  Mrs Jaqueline Perkins to Belarus. The event involved members from the Cabinet Office, FCO East European Division, EBRD, UCL, and a number of think-tanks. Professor Korosteleva discussed opportunities of working together with Ambassador-Designate under the GCRF COMPASS project, and invited Mme Ambassador Perkins to become member of the project Advisory Board.
First GCRF GCDC International Training School for Early Career Researchers, 2 – 6 July 2019, University of Kent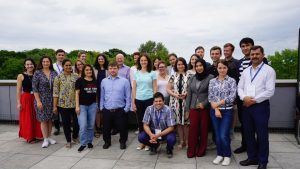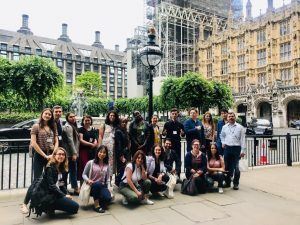 The 1st International Training School for Early Career Researchers (ECRs) organised by the GCRF Global Challenges Doctoral Centre (University of Kent) with the support of the GCRF COMPASS project, took place from 2 – 6 July 2019. It was attended by 24 participants, 16 of which were drawn from the COMPASS ECR network, representing all partner HEIs. Participants presented their research and received in-depth feedback from their peers and senior colleagues. They also attended skills training sessions on networking, publishing, and fieldwork funding as well as visited Westminster and Rowman and Littlefield Publishing House in London. All presented papers will be bundled in the Working Proceedings to be published on the website in September 2019. Special thanks go to Kent's Graduate School, Grace Grussenmeyer, Dr Invild Bode, skills trainers, and the Kent COMPASS team for organising this event. More information and the full programme of the event can be found here.
First GCRF COMPASS Signature Conference at University of Kent, 30 June – 2 July 2019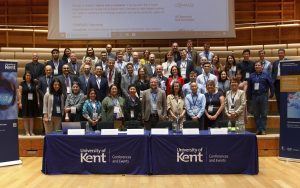 On 1-2 July 2019 the GCRF COMPASS team @Kent launched its first Signature Conference as part of the wider GCRF Kent initiative, which focused on 'Governance and Resilience in wider Eurasia: Are cooperative orders possible?'. The conference reflected on the anniversaries of various region-building initiatives – 10 years of the EU's Eastern Partnership, and 5 years of Russia-led Eurasian Economic Union and China's Belt & Road Initiative – to assess their success and challenges, as well as opportunities for cooperation in the future.
The conference gathered over 60 participants, including top-level international academics, policy-makers from the UK and EU institutions, practitioners, and Early Career Researchers. The first plenary of the conference, held in conversation with the three eminent Professors – Trine Flockhart (SDU), Kerry Brown (KCL) and Alexander Lukin (HSE), addressed the issues of uncertainty and change, and what governance strategies may be better suited to respond to an increasingly complex, interconnected and unpredictable world of international relations. This was followed by three panels, each focusing on a specific regional policy initiative and regional response, generating a lot of debate from the local and global perspectives. The final plenary, represented by the esteemed speakers from Russia (Prof. Entin), China (Prof. Xu Qinhua), UK (Lord Teverson and Prof. Sakwa), EU (Dr Boris Bojkov) and Central Asia (Dr Khasanov), was dedicated to exploring whether cooperative orders are possible across the region, and what needs to be done to enable more adaptive governance for the benefit of the region itself. The conference opened up more questions than delivered answers, thus ensuring that this discussion should continue as part of this signature event in the future. More information about the event is available on this site and the full programme of the event can be found here.
16th Conference of the European Society for Central Asian Studies, Exeter, 27 – 29 June, 2019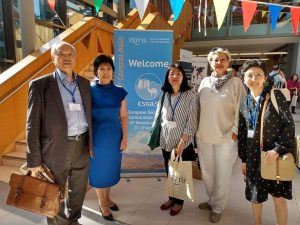 The COMPASS team presented their research at the 16th biennial conference of the European Society for Central Asian Studies (ESCAS) held at the University of Exeter. COMPASS was represented by all UK and regional partners and formed five panels on diverse themes of economic, social, political and cultural issues in Eurasia. The first of these was titled 'Global Insecurities in a wider Eurasia' where panelists from the University of Kent, UWED and BSU discussed pressing economic geopolitical issues in wider Central Eurasia.
The panel on 'Inter-regionalism and Globalisation in Central Asia' focused on EAEU and BRI projects and the impact of mapping international cooperation in the Central Asian region. These discussions were substantiated by the subsequent panel on 'Community Building and State Imagination' concerning policies of resilience, cultural aspects of decolonizing borders in Central Asia and the impact of localized networks of gender organizations in Kazakhstan.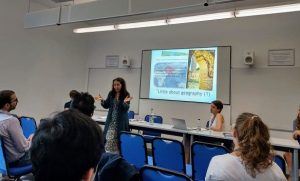 The panel on 'Central Asia and Unrigid Geographies of the Silk Road' attracted a lot of attention at the conference due to the interesting dynamic of the discussions and viewpoints of all three panelists. It started with a historical overview of Central Asian cooperation development followed by the contextual and historical overview of the Silk Road development from its inception to the present-day projects on One Belt One Road and the micro-level analysis of trade and conceptions of space and negotiations on contemporary Silk Road in Central Asia.
'Globalising and Localising Eurasia' was the final panel presented by COMPASS members and the focus of the discussions was on the various aspects of globalization and local development in Central Eurasia such as Europeanization of educational system in Belarus and its effect on students from Central Asia, globalization and community development in Tajikistan and Caspian caviar narrative and development in the Caspian Sea region.
COMPASS was also represented in a number of other panels and attracted a great deal of interest in their newest research outcomes.
5th EU-ADA Summer School at ADA University, Baku, 10 – 21 June 2019
An intensive short-term summer school programme for bright students, recent university graduates and young professionals.
RUSI Conference 'The Eastern Partnership: the next 10 years', 18 June 2019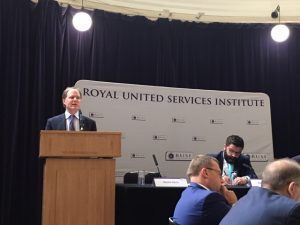 Professor Elena Korosteleva was invited to speak at the conference in Whitehall on the future of the Eastern Partnership, organised by The Royal United Services Institute (UK), in cooperation with the Embassies of Romania, Poland and Sweden, on 18 June 2019. The conference was opened by Martin Harris OBE, Director for Eastern Europe and Central Asia in the Foreign & Commonwealth Office, with a keynote speech on 'Britain and the Eastern Partnership: looking to the future', and discussed the EU/UK policy priorities and regional challenges for implementation. Professor Korosteleva spoke about 'The Security Dimension of the Partnership, in the context of resilience'. More information can be found here.
The Summit of Minds in Armenia, 7-9 June 2019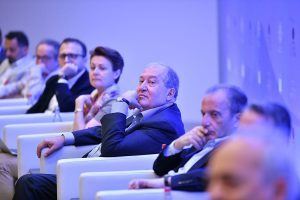 At the President's invitation, Professor Korosteleva attended the Summit of Minds in Dilijan-Yerevan, Armenia on 7-9 June 2019.  Normally held in Chamonix, the Summit was for the first time organised and hosted in Armenia, at the Dilijan Training and Research Centre, Central Bank of Armenia. The summit involved a diverse range of speakers, including President Armen Sarkissian; Prime Minister Nikol Pashinyan; Former French PM Dominique de Villepin; General USMC (Ret) James Jones; Special Representative of the President RF for the Development of Cultural Ties Ambassador Mikhail Shvydkoy; Director of Kennan Institute, Wilson Centre USA Matthew Rojansky; Chairman of the Endowment Fund 'Istoki' (Russia) Vladimir Yakunin; and many other dignitaries and prominent private sector and public officials. The President inaugurated the forum with following words: 'World has become more complex, and we need a summit of minds to find solutions'.  For more information see here and the press-release from the President Office.
10-year anniversary of the Eastern Partnership Initiative, Brussels, 14 May 2019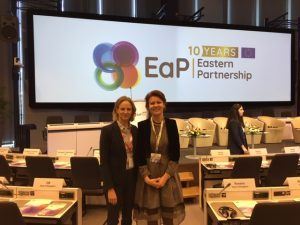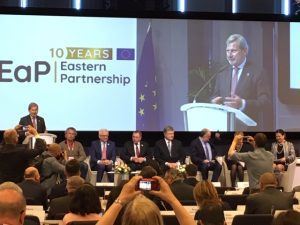 Professor Elena Korosteleva was invited to a high-level ministerial meeting in Brussels for the celebration of the 10-year anniversary of the Eastern Partnership Initiative (#EaP10) and discussions of its future for the neighbourhood. The meeting was opened by President of the European Commission Jean-Claude Juncker, who noted the EaP's strategic importance and many achievements, including 30k jobs, mobility partnerships, and successful sectoral cooperation. HRVP Federica Mogherini underscored the people's factor, which she was sure would drive the policy forward. Ideas for greater EaP visibility, AA+, transport and energy connectivity, and tailored partnerships will be defining the EaP's future directions. Resilience governance will be at the heart of the EU policy in the Eastern region and Central Asia.
Visit of HE Khalifzoda, Ambassador of Tajikistan to the UK, to the University of Cambridge, 10 May 2019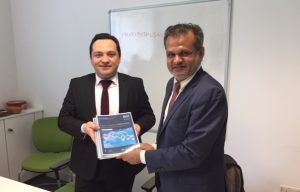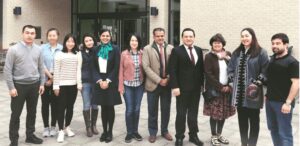 GCRF COMPASS Cambridge hosted HE Khalifzoda, Ambassador of Tajikistan, at the University of Cambridge on 10th of May. Dr Saxena and HE Khalifzoda spoke about COMPASS aims and goals at length and discussed the upcoming GCRF COMPASS conference at Tajik National University for which the Ambassador promised full support. The Ambassador met COMPASS affiliates in Cambridge and heard about their research and expressed his interest in hearing more about Tajikistan and its role in academia and the COMPASS capacity building project.
Visit of Professor Elena Korosteleva at Australian National University, Canberra, 1 – 5 May 2019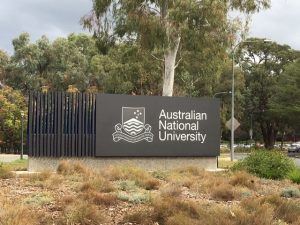 At the invitation of the ANU, Professor Elena Korosteleva visited Canberra (Australia) during 1-5 May 2019, to discuss the concepts of regional governance and order across wider Eurasia in a comparative perspective (including South Asia), and to develop opportunities for cooperation and research synergies.
COMPASS Student Convention, BSU, Minsk, 25 – 27 April 2019
Professor Korosteleva opened the 1st International Student Convention organised at the BSU under the aegis of the GCRF COMPASS project. The student convention attracted over 800 student participants, with 17 COMPASS student representatives coming from ADA University, Cambridge, Kent, TNU and UWED, and involving 1st year PhDs, Master's and final-year undergraduate students. The focus of the COMPASS convention was on the theme of 'Integration of Intonations: challenges and perspectives', looking at wider Eurasian region. The convention was opened with a welcoming speech from H.E. Fionna Gibb, UK Ambassador to Belarus, Professor Victor Shadursky, Dean of the Faculty of International Relations and COMPASS Research Integration lead; Professor Elena Korosteleva, COMPASS PI, and Artsiom Nazaranka, Senior Lecturer from the School of History and COMPASS National Team Lead. This was followed by three parallel panels of student presentations, and intense Q&A. Students launched their 1st Student Forum (with a blog to follow), WhatsApp communication page, and visited many historic and cultural places in Minsk, including the National Library, WWII Museum, and Bolshoi Theatre.
Connecting Central Asia in the 21st Century, 25 – 26 April 2019, Oxford
Dr Akram Umarov, GCRF COMPASS Project Research Associate from the University of World Economy and Diplomacy (Uzbekistan), participated in the multidisciplinary conference 'Connecting Central Asia in the 21st Century' on 25-26 April 2019 organised by the Russian and East European Studies Programme of Oxford University's School of Global and Area Studies. The event brought together leading scholars and researchers united by their interest in Central Asia's past, present and future.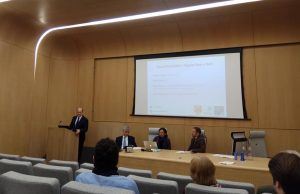 Through panel discussion, roundtable talks, debate, and academic presentation, the participants explored pressing topics such as resource management in Central Asia, foreign relations of the regional states with Russia and China, how Central Asia's past informs its present and future, the region's vision for itself in the 21st-century and comparative area studies approaches to contemporary Central Asia. Dr Umarov presented his understanding of the Belt and Road Initiative's perception in Central Asia on the panel 'Belt and Road Initiative—Regional Boom or Bust?'. He shared his views on the transformative impact of the BRI projects for Central Asia, the influence of the BRI on economic growth strategies, possible opportunities and challenges, and the importance of the increased connectivity for more effective regionalism in Central Asia.
LSE IDEAS Dahrendorf Forum, 17 April 2019
Elena Korosteleva, in consultation with Dr Samokhvalov, contributed a reflection piece to a prestigious LSE IDEAS Dahrendorf Forum on the 2019 presidential election in Ukraine . It can be dowloaded here.
COMPASS "Research in Action" Bukhara Training School, Uzbekistan 8 – 11 April 2019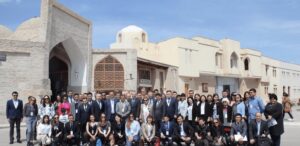 GCRF COMPASS Cambridge together with The Coordination and Methodological Centre on Contemporary History under the Uzbekistan Academy of Sciences organised a three day workshop entitled 'Research in Action' on 8-10 April 2019. It was designed to engage with varied research cultures, interdisciplinary research, and methodologies of research while considering the most current concerns in Central Asia, wider Eurasia and globally. It was organised with support from the Embassy of Uzbekistan in the UK, Academy of Sciences of Uzbekistan, the Academy of the General Prosecutor's Office of Uzbekistan, and the Institute of Contemporary History under the Academy of Sciences in Uzbekistan, University of World Economy and Diplomacy. This workshop provided the basis for research capacity building, a core goal of the COMPASS project, in academia, government and media. The workshop focused research methodologies across development paradigms and encompassed sustainability, multilateralism, scientific and cultural diplomacy, international relations, political economy, industrial policy and technology, science and education amongst other areas.
Visit of Baroness Suttie at Belarusian State University, 8 – 9 April 2019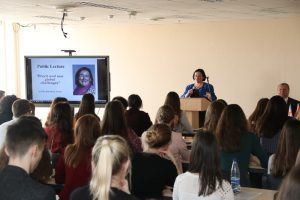 Baroness Suttie a member of the House of Lords in the UK Parliament and GCRF COMPASS Advisory Board member met with Belarusian State University Rector Professor Andrei Karol and other members of the university leadership on the 8th of April to discuss the implementation of the COMPASS project at BSU and broader perspectives of Belarusian-British cooperation in education and science.
On the same day Baroness Suttie delivered a public lecture attended by over 150 BSU students and academic staff members on "Brexit and new global challenges" with an extremely intense session of Q&A.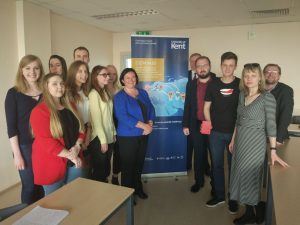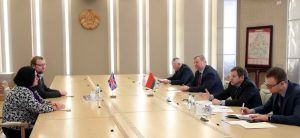 Later on she run a training session on British Parliamentary Debate for members of the BSU Students Debating society, adjudicated a game on EU-related topics and shared valuable advice on preparing for public debating.
On April 9th, Baroness Suttie, accompanied by Belarus NTL Artsiom Nazaranka and Prof. Victor Shadurski visited the Upper House of the Belarusian Parliament where she met with Prof. Oleg Rummo, head of the working group of the Belarus National Assembly on cooperation with the British Parliament.
Following this, the Baroness continued meeting people around BSU. In particular, she talked with the Dean of History Professor A. Kakhanouski to discuss achievements and tasks within the COMPASS project.
Baroness Suttie's visit was widely reported by news channels and on the web: leading Belarus news-agency BelTA (Russian and English), STV National TV channel BELAPAN news-agency (via naviny.by), BSU web-portal Belarusian, Parliament web-portal.
ISA 60th Annual Convention, 27- 30 March 2019, Toronto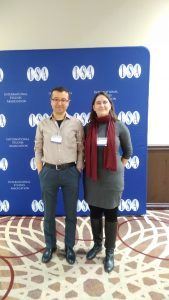 The COMPASS project supported a number of staff and PhD students to attend the 2019 International Studies Association (ISA) conference. These included Dr Muzaffer Kutlay, Zachary Paikin, Zhouchen Mao, and Susanner Szkola – COMPASS research affiliates who took part in this year's ISA conference on 27 – 30 March in Toronto, Canada. GCRF COMPASS Researcher (WP3) Dr Oybek Madiyev acknowledges the financial support he received from the University of Kent School of Politics and International Relations (POLIR) for his participation at this conference. The theme of this year was 'Re-visioning International Studies: Innovation and Progress'. It fostered rigorous discussions on carrying out research and writing on a broad range of themes within the international studies area. Each participant presented a paper at the conference, and is expected to publish their output as part of the COMPASS mobility support package.
The Eastern Partnership @10: In search of New Momentum, Natolin, 29 March 2019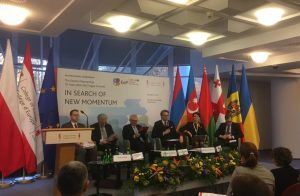 On 29th of March Professor Korosteleva spoke at the conference 'The Eastern Partnership @10: In search of New Momentum', at a joint panel with HE Ambassador Thomas Mayr-Harting (EEAS), HE Ambassador Piotr Switalski (EU Deleg to Armenia), and Mr Hofmokl, Polish MFA representative. The panel was chaired by ENP Chair Prof. Tobias Schumacher.
Regional Seminar for Heads of Delegations and the EEAS, College of Europe, Natolin, 28 March 2019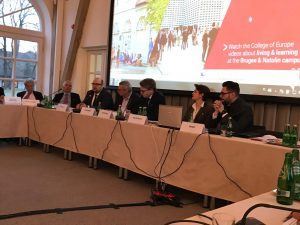 Professor Korosteleva was invited to speak about the current developments in the Eastern Partnership at the Regional Seminar for Heads of Delegations and the EEAS at the College of Europe Natolin (28 March 2019). The seminar was attended by all EU Delegation Ambassadors, EU Special Representatives to the region and senior representatives of the EEAS, Commission and EU Chief BREXIT Negotiator Michel Barnier.
GCRF COMPASS workshop ' The Belt and Road Initiative @ Five: Taking stock of global ambitions, regional response, and looking ahead' 13 – 15 March 2019, Canterbury and Cambridge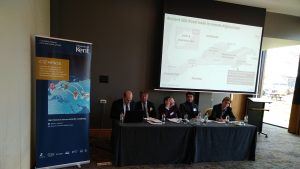 A one-day workshop on the Belt and Road Initiative (BRI) at the University of Kent (13th March) was followed by a Master Class on 14th March where postgraduate students were able to discuss BRI with the experts participating in the workshop, and a trip to Cambridge on the 15th of March to attend a round table at the Cambridge Central Asia Forum. A more extensive report on the event is available here.
Meeting in Cambridge and Navroz, 8 March 2019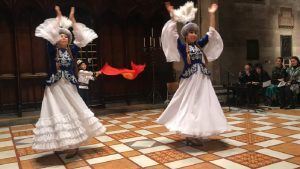 This year's Navroz (Central Asian New Year) celebrations were preceded by  a roundtable with the theme 'Dynamics and Dynamisms of the Emerging Global Order: Role of Parliamentary Structures'.  It was followed by the cultural evening which included an exciting array of dance and musical performances from the region to an audience of more than 300 people.
The role of university education and science in modern society: on the occasion of 100th anniversary of the Belarusian State University, Minsk, 26-27 February 2019
The conference was timed to coincide with the 100th anniversary of the adoption of the Soviet Belarus Government Decree of February 25,1919 to open a University in Minsk and attracted over 170 researchers from Belarus, Russia, Poland, Germany, Slovakia and Turkey. Further information can be found here.
Workshop 'Russia between East and West, and the Future of Eurasian Order', 13 December 2018, London
The event addressed issues of challenges and opportunities for cooperative orders in the wider Eurasia; dynamics of Russia's engagement in the region; the role of the Eurasian Economic Union and the shared neighbourhood of Russia and the European Union.
Workshop 'The EU and resilience: interrogating theory, policies and practice', 9 November 2018, Rome
The workshop brought together over forty participants to reflect on the concept of resilience and its application in the EU's policies towards the eastern neighbourhood and Central Asia.
COMPASS Research Associate receives prestigious Web of Science Award
Anar Valiyev, COMPASS Research Associate, and his colleague Dr. Omar Farooq at ADA University were awarded the Web of Science Award 2018 as as the Most Productive Authors in Humanitarian and Social Sciences by Clarivate Analytics. The Award was given by the Ministry of Education of Azerbaijan, Science Foundation of Azerbaijan and the Global Director of Clarivate Analytics Isabel Reiss.
Meeting with Mme Fu Ying, 5th December 2018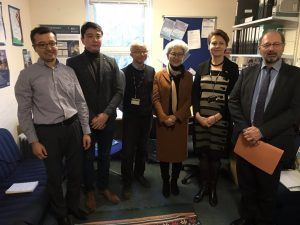 The GCRF COMPASS team at Kent hosted Mme Fu Ying, Vice Chairperson of the Foreign Affairs Committee of the National People's Congress of China, on 5 December 2018, to discuss opportunities for scientific cooperation under the aegis of the COMPASS project. Participation of prominent Chinese academics at the forthcoming COMPASS workshop on BRI in March 2019 and a big KENT conference on governance and resilience in July 2019 were part of the agenda.
Caspian Innovation Conference, 5th December 2018, Baku
Business leaders (Vodafone, CISCO, Turkcell), UN, and government officials came together to discuss immediate challenges and opportunities. Dr Saxena and the team from Cambridge represented GCRF COMPASS in this event.
Training Workshop for higher education institutions 'How to prepare a successful project proposal', 19-23 November 2018, Baku, ADA University in Partnership with the BSU COMPASS Team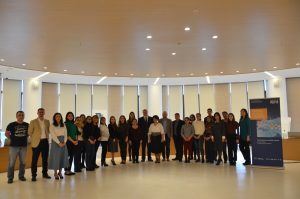 The training workshop was aimed at building basic competencies of project design and writing including problem identification, target groups analysis, understanding Logical Framework Matrix approach, applying ICT skills for project planning and budgeting, text writing and grant application management. During the five training days participants developed their knowledge in project proposal development starting from problem identification to project budgeting, writing and evaluation. Existing EU programs such as Erasmus+, Jean Monnet, joint master degrees and international practices of organization of project activities within higher education institutions were reviewed. Participants of the training program included staff and academic faculty of ADA University and seven other public and private HEIs in Azerbaijan, as well as COMPASS Project participants from Tajik National University and University of World Economy and Diplomacy of Uzbekistan.
Roundtable on Community Dialogue and Democratisation of Society in Uzbekistan, 15 November 2018, Cambridge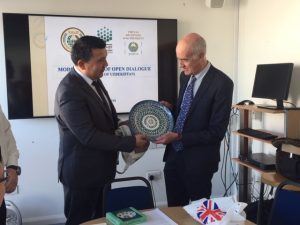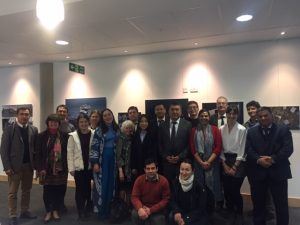 On 15 November 2018 the Cambridge team in the GCRF COMPASS project hosted a delegation from Uzbekistan. The event was organised by Cambridge Central Asia Forum, Jesus College, University of Cambridge, GCRF COMPASS UK, Centre of Development Studies and the Independent Institute for Monitoring Civil Society in Uzbekistan, Embassy of the Uzbekistan in the UK and the OSCE Office in Uzbekistan. The head of the delegation was Prof Obdumuradov, Head of the Sector of the Presidential Administration in Uzbekistan. Nick Ray, Convenor of the Cambridge Central Asia Forum Committe was also present. Prajakti Kalra(GCRF COMPASS Events and Communications Officer), Dr Kudaibergenova (GCRF COMPASS PDRA) and Dr Waljee (GCRF COMPASS Affiliate) were present.
Workshop 'The EU and resilience: interrogating theory, policies and practice', 9 November 2018, Rome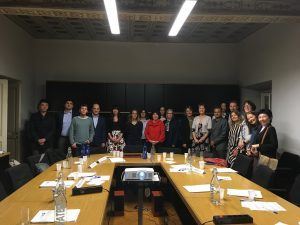 On 9th November, COMPASS organised a workshop together with the Rome-based Istituto Affari Internazionali (IAI) and the H2020 UPTAKE project. The workshop, titled "The EU and resilience: interrogating theory, policies and practice" brought together over forty participants to reflect on the concept of resilience and its application in the EU's policies towards the eastern neighbourhood and Central Asia.
Participants included COMPASS team members from all six project institutions; Advisory Board members; PhD students from the UPTAKE consortium; and external participants. The key note was delivered by Dr Nathalie Tocci (AB member, Special Adviser to the European Union's HR/VP Federica Mogherini, and Director of the IAI).
In each of the three roundtable sessions speakers presented their views on resilience in light of theory; policies; and practice. The presentations were followed by interventions of provocateurs and discussions with the whole audience. Specific issues that were raised during the workshop and that will contribute greatly to the formation of the project's conceptual framework, concerned the different interpretations of 'resilience'; the link between resilience and capacity-building, as well as policy impact. The workshop will lead to several concrete outputs, including working proceedings and possibly a Special Issue.
COMPASS Field Trip Mission to Belarus, 28 October – 4 November 2018
On her recent field mission trip to Belarus, Professor Elena Korosteleva visited the BSU, where she had a series of engagements. Elena met with the BSU team – Dr Artsiom Nazaranka (Team Leader), Professor Victor Shadurski (Research), Yauhenni Preihermann (Policy) and Professor David Rotman (in absentia, via skype), to discuss BSU strategic priorities and specific calendar plans for this academic year; followed by meetings with the Ms Tatiana Kovshevich (Head of Finance, BSU), Professor Siarhei Khodzin (Vice-Rector, BSU) and a wider pool of researchers covering a wider Eurasian region, from an inter-disciplinary perspective.
12th Core Group Meeting of the Munich Security Conference, 31 October  – 1 November 2018
During 31 October-1 November 2018, Elena was also invited to participate at the 12th Core Group Meeting of the Munich Security Conference (MSC). Limited to an exclusive group of no more than 70 participants, the MSC Core Group Meeting in Minsk offered a neutral platform to discuss rising tensions between East and West, to establish dialogue and communication at the highest political levels. Organised in partnership with the Government of Belarus, the meeting focused on the issues of transnational security threats, arms control and confidence building, Minsk Process, regional conflicts and capacity-building measures in the wider Eurasian region. All discussions were held under the Chatham House Rule, to allow for open exchange of opinion bringing to the same table parties with potentially opposing views to establish common ground. Participants included several heads of state and government, such as Alexander Lukashenko (President of Belarus), Armen Sarkissian (President of Armenia), Hashim Thaci (President of Kosovo); Prime Ministers of Serbia, Bulgaria, and Moldova; foreign ministers of Macedonia, Mongolia, Poland, and Slovakia, as well as high-level representatives of international organisations including OSCE Secretary General, EU Commissioner for Neighbourhood and Enlargement Negotiations, NATO Assistant Secretary General and Executive Secretary of the Comprehensive Nuclear-Test-Ban Treaty Organisation.
Conference on 'Marx in a High Technology Era: Globalisation, Capital and Class', 26 – 27 October 2018, Cambridge
Cambridge COMPASS, Cambridge Central Asia Forum in collaboration with the Centre of Development Studies, organised a conference on Marx in a High Technology Era: Globalisation, Capital and Class on 26-27 October 2018. The conference focused on Marx's legacy in the 21st century. On the 27th of October Dr Saxena talked about the Role of Science in the Development of High-Tech Production and their economic aspects. The discussion focused on Eurasia, especially the Central Asian countries Uzbekistan and Tajikistan as well as Azerbaijan  and the challenges they face in participating in the global economic market.
COMPASS Field Trip Missions to Uzbekistan and Tajikistan 12 – 17 October 2018
The COMPASS teams from the Universities of Kent and Cambridge visited the National Teams at UWED (Tashkent), and TNU (Dushanbe), during 12-17 October 2018. The purpose of the visit was to meet a wider pool of affiliates of the National Teams, present COMPASS priorities, discuss planned activities and shared calendar of events, and support the teams in their own countries. Furthermore, COMPASS teams had visits to the British Embassies and British Councils in Tashkent and Dushanbe, and meetings with representatives of national governments and parliaments, to alert them to the COMPASS agenda to develop prospects for cooperation.
These field missions were very important: meeting the people changed the project dynamics and reinforced a shared vision, and objectives. These personal conversations were far more effective than communication by e-mail and videoconferences. It also allowed us to meet potential collaborators from different universities and young researchers in both countries eager to find out about COMPASS and explore opportunities for networking and collaboration. Additionally, national  governments in both countries are now much more aware of the project and have pledged their support for initiatives such as the proposed regional forums in Uzbekistan and  Tajikistan.
The hospitality of our host requires a special mention – from meeting us at the airport (and taking us back for very early morning flights) to providing transport to hotels and the various meeting places, to organising special dinners and taking the time to accompany us sightseeing – we very much appreciate the effort and feel privileged to work with such special teams.
All the support has been much appreciated, and everyone involved in the organisation of these trips deserves a special gratitude!
COMPASS Field Trip Mission to Azerbaijan 1 -5 October 2018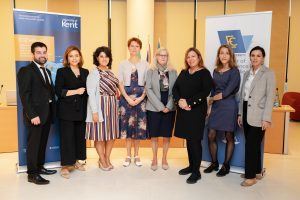 The COMPASS team from Kent and Cambridge visited their partners at ADA University in Baku, on 1-5 October 2018. They met with their counterparts including Nargiz Ismayilova (National Team Leader), Dr Anar Valiyev and Dr Kavus Abushov (Research Integration), Fariz Ismailzade (Policy Impact), Nargiz Gafarova and Inara Yagubova (Community Engagement); discussed financial and transactional issues with the ADA University finance office; and engaged with a wider pool of researchers convened by the CEEUS team. These meetings allowed to discuss Key Strategic Priorities for the university, and a range of individual and shared activities for this and future academic years.
Using the presence of the UK partners, the ADA team organised a formal launch of the project, having invited a range of policy stakeholders – from a number of Ministries, relevant State Committees, and Port of Baku, as well as think tanks, Embassies in Baku, and representatives of the British Council and other EU projects currently running at ADA University.
Following the mission, several new ideas for research and policy were developed into concrete initiatives, and the calendar for project events at ADA was finalised for the year ahead. The Kent and Cambridge team are very grateful to their colleagues at ADA for hosting us and for making the field trip such a success.
Executive Training Seminars on 'China's Global Ambitions in the Age of Xi Jinping' and 'Beyond Bretton Woods: China and Changing Landscape of International Development Finance'. European University Institute, Florence, 1-6 October 2018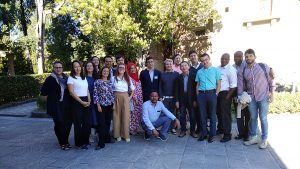 Oybek Madiyev participated in the EUI Executive Training Seminars (ETS) which brought together political scientists, economists and practitioners from Europe, China and Canada to explore the most salient political and socioeconomic issues related to the growing international presence and influence of China. The discussions covered a variety of perspectives on the strategic outcomes of the 19th national congress of the Chinese Communist Party, as well as the Belt and Road Initiative (BRI) and China's ambitions for international institution-building. Scholars and practitioners reflected on how President Xi Jinping's stated goal of moving China to the global centre stage by 2049 would reverberate on security dynamics in the Asia-Pacific region, on world trade and global macroeconomic stability, and on international development. Oybek used the ETS as an opportunity to introduce the COMPASS project to a wider network of scholars and policy-makers, and to explore opportunities for broader cooperation with the EUI Academy of Global Governance.
COMPASS @KENT expands its pool of researchers, 28 September 2018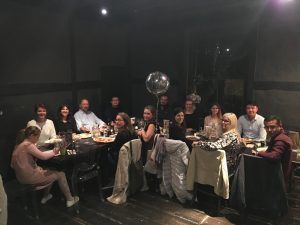 COMPASS @Kent welcomed new members to its expanding team, which included Director of the newly established Global Challenges Doctoral Centre, Dr Ingvild Bode; 2 new GCRF PHD  students, Huawei Zheng and Polina Bishenden; and the COMPASS affiliates – Dr Anisa Heritage, Professor Richard Sakwa, Dr Hendrik Huelss, Zhouchen Mao, Tanya Radchuk, and Muzaffer Kutlay (currently UPTAKE RA).
COMPASS @Kent attends the EISA conference in Prague, 12-16 September 2018
Members of the COMPASS Kent team, along with Prof Trine Flockhart (University of Southern Denmark and COMPASS AB member) and Dr Tobias Bunde (Hertie School of Governance, Berlin) participated in the EISA Conference in Prague. The roundtable session was titled 'Interrogating complexity of a changing global order: Building resilience and cooperative orders in an increasingly multi-order world'. Panelists reflected on the changing world order; and the issues of governance, identity and resilience to understand change and the extent of cooperative potency of emerging new order(s). The discussion referred to the cases of Uzbekistan and Azerbaijan to better capture impending transformations.
COMPASS @Kent participates at the UACES 48th Annual Conference, University of Bath, 2-6 September 2018
Elena Korosteleva (Kent), Miriam Lexmann (IRI and COMPASS AB member), Tatiana Romanova (St Petersburg and COMPASS AB member) and Eske van Gils (Kent) participated in a roundtable at the UACES conference in Bath on the 4th of September. Along with Richard Youngs (Warwick University / Carnegie Europe) and the wider audience of specialists, the roundtable engaged with current debates revolving around the highly politicised practices of democracy promotion vis-à-vis capacity-building as a new strategic framework to facilitate change in the wider neighbourhood. As part of theorising capacity-building it also focused on the concept of resilience to see if there is any conceptual potency for the conceptual and practical use of the term in future debates.