COMPASS participation in UPTAKE Training School at Uppsala University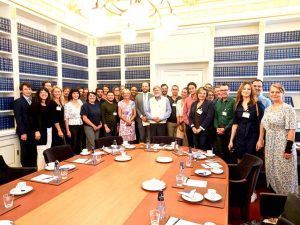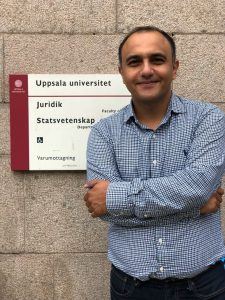 Between 26th and 31st August several members of the COMPASS project participated in the 4th UPTAKE Training School titled 'Straight talk about Russia'. The Training School took place at Uppsala University in Sweden and was organised through the H2020 Twinning project UPTAKE. Anar Valiyev (ADA University), Pavel Boltochko (BSU) and Eske van Gils (Kent) presented their work at the school; and PI Elena Korosteleva also participated in the programme.
The participation of COMPASS members in the training school was motivated by our own plan to organise an Early Career Researchers training school in 2019. Attending the week-long event in Uppsala allowed us to observe best practices on the organisation of such research-driven trainings. We would like to thank the organisers in Uppsala for welcoming us to the programme!
President of Tajikistan at ADA University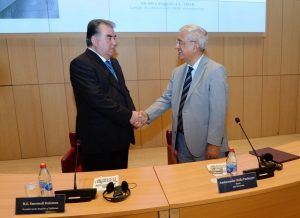 On the 10th of August 2018 H.E. President of Tajikistan arrived in Baku, Azerbaijan, for an official visit and on the 11th of August 2018 ADA University was honored to host the President of Tajikistan H.E. Emomali Rahmon for a public speech. "Azerbaijan and Tajikistan have established a reliable political dialogue, strengthened business relations and built cooperation in a number of spheres. Azerbaijani-Tajik relations also contribute to regional cooperation. We can note with satisfaction cooperation in the international arena, where the positions of our countries on important issues coincide" remarked H.E. Hafiz Pashayev, rector of ADA University.
In turn H.E. President Emomali Rahmon mentioned the comprehensive development of stable and long-term bilateral relations with the member countries of the Commonwealth of Independent States, and especially with Azerbaijan and highlighted the importance of Tajikistan and Azerbaijan's close cooperation in all spheres of life and coordination of efforts in the international arena.
ADA University 3rd EU Summer Camp, 9 July – 3 August 2018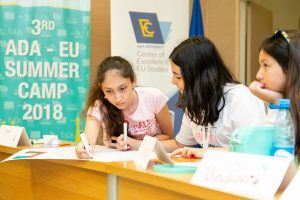 Between the 9th of July and 3rd of August 2018 ADA University hosted the 3rd EU Summer Camp. Summer Camp is a one-month program, which gives students between the ages of 9 -15 a chance to spend their summer time in an interesting and fruitful way by experiencing a variety of activities, developing their general worldview, capacities and logical thinking.  During the month more than 150 school children have participated at the Camp. Through the activities, participants have acquired basic knowledge about European Union institutions and history, and drew similarities between Azerbaijani and European cultures. The Camp was divided into four thematic weeks: "Azerbaijan 100 – When East meets West", "ICT Genius", "Best Junior Banker and all about Employability", "Environment around Us". The Camp aims to develop children's intellectual capacities and develop interest and understanding towards European Union and its values creating a unique education platform for Azerbaijani school children.
Regional Energy Security Symposium, 16 – 20 July 2018, ADA University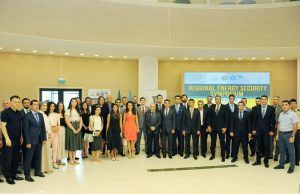 From the 16th to 20th July, 2018 ADA University Center of Excellence in EU Studies in partnership with NATO Energy Center of Excellence and Naval Postgraduate School  co-organized the Regional Energy Security Symposium. The Symposium brought together government officials, representatives of high reputable oil companies, high-ranking officials from Azerbaijan and academicians from USA to discuss energy security and threats to it in the Caspian and Caucasus regions. During the week attendees from the majority of government agencies and ministries participated in lectures and seminars covering numerous topics such as Geopolitics of Energy, Critical Energy Infrastructure Protection, Cyber Security and others. Special guests of the Symposium included Mr. Parviz Shahbazov, Minister of Energy of the Republic of Azerbaijan, Mr. Vitaly Baylarbayov, Vice president of State Oil Company (SOCAR), Dr. Brenda Shaffer from Georgetown University and other highly reputable international experts in related fields.
President of Italy at ADA University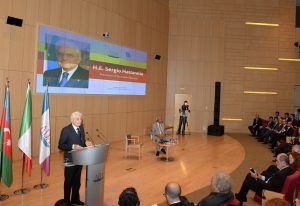 ADA University was honoured to host a public speech of H.E. Sergio Mattarella, President of Italy on July 18, 2018. The lecture was conducted within the official visit of H.E. Sergio Mattarella to Azerbaijan. This was the first time for the Italian president to visit Azerbaijan. The public speech and other meetings during the visit have been mainly covering the topics of Southern Gas Corridor (SGC), trans Adriatic Pipeline (TAP), contribution of stability and peace in the Caspian region to the Europe and included Azerbaijan-Italy business forum.
Launch of 'Study My Girl' campaign
As part of the Global Challenges COMPASS project, ADA University Center of Excellence in EU Studies (CEEUS) has launched the Study My Girl (#OxuQızım) initiative in July 2018 by presenting a powerful video on Facebook. In this video four women living in a women's shelter in Baku are sharing details of their life stories, what challenges didn't allow them to get a proper education and their thoughts on the importance of education in the life of every young woman.  The main purpose is to support girls and women to get the education they deserve, share powerful stories about physical, cultural and social barriers they face in accessing education and create a platform for public discussion and debate on women empowerment. The initiative will be continued by implementing community-based projects and training that help to empower girls and address barriers to girls' education. The video can be viewed on CEEUS Facebook page in Azerbaijani with subtitles in English.
Global Challenges Research Conference at the University of Kent, 2 – 6 July 2018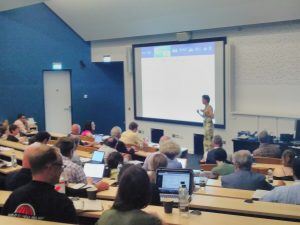 The University of Kent recently organised the 'Global Challenges Research Conference', to foster global partnerships and new research projects to help address the challenges  of the developing world. The conference gathered all-level stakeholders – from government officials, and funders, to NGOs, practitioners, and scholars of multiple disciplines. Baroness Suttie, from the House of Lords, and the COMPASS AB member, gave a key-note speech underlining the importance of the funding initiative.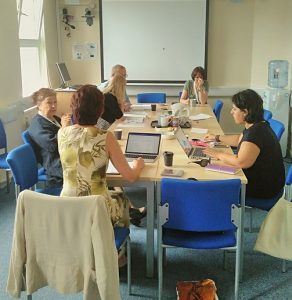 The COMPASS project prominently featured at the conference, with Professor Korosteleva's presentation (available here) and Q&A sessions involving National Team Leaders from ADA University, BSU, TNU, and UWED (via video-link). The partners also used this occasion to further discuss their KPIs and Action Plans for the next academic year, and develop learning & research synergies for a Jean Monnet Network application. These meetings were also attended by Dr Stefano Braghiroli and Dr Anne Beitane (Tartu University), Professor Thomas Kruessmann (GOPA), Miriam Lexmann (IRI Brussels, and COMPASS AB member), and Dr Sue Griffiths (GPG, and COMPASS AB member).
Stakeholders Meeting at the FCO, London, 29 June 2018
The stakeholders meeting was organised with the support of Laurence Broyd (Senior Analyst, FCO and COMPASS AB member). The meeting brought together FCO departments, WFD, and partner Embassies, to discuss how to maximise policy impact of the GCRF COMPASS project. A particular focus was on the agenda of the forthcoming London Forum (27 – 29 January 2019) and how to make it relevant to all major stakeholders. This discussion will be continued with partners and COMPASS AB
Russia and the West: What future for the European Security Architecture and the OSCE?, Vienna, 25 June 2018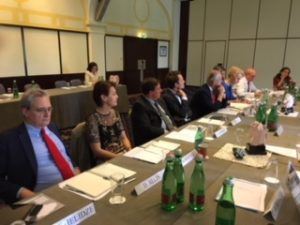 Dr Nathalie Tocci, a member of the COMPASS Advisory Board, invited Professor Korosteleva to speak at the closed-door roundtable in Vienna to discuss the need for new institutional security arrangements in Europe and the world, with other European and Russian experts.
UCL SSEES Conference 22 June 2018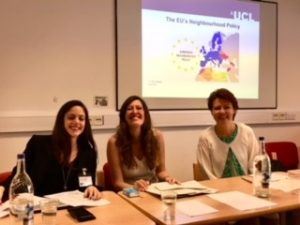 Professor Korosteleva was invited to speak at a plenary session of the UCL SSEES conference 'The Interaction of Eurasian Integration with the EU and the Silk Road: International Politics and Political Economy', 22 June 2018. The title of her presentation was 'The changing wider neighbourhood and the EU: challenges and opportunities', focusing on a changing global, and domestic environments, and the ensuing consequences for more effective and sustainable governance for the EU. Enhancing resilience as self-governance and developing critical infrastructures for capacity-building in partner-countries to ensure sustainable relations, was argued, should be the key priorities for the EU's new modus operandi.
Prague European Summit, 19 – 21 June 2018
Professor Korosteleva was invited to speak at a plenary session of the Prague European Summit, an initiative of EUROPEUM Institute for European Policy and the Institute of International Relations, under the patronage of the Ministry of Foreign Affairs of the Czech Republic, Office of the Government of the Czech Republic, Representation of the European Commission in the Czech Republic and the City of Prague. She shared her views at the panel along with Petr Drulak (Czech Ambassador to France), Josef Janning (European Council on Foreign Affairs, Berlin), and Jeremy Cliffe (The Economist). The panel addressed the theme of 'The EU's Global Role: capacities, Credibility, and Coherence', especially with relevance to the neighbourhood, and Central Asia.
More information is available at: http://praguesummit.eu
Great British Festival in Minsk 14 -17 June 2018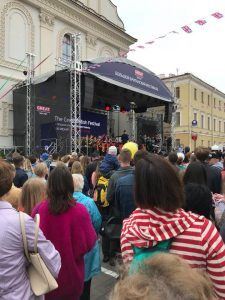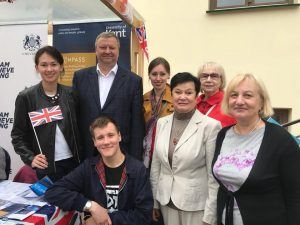 BSU participated in the UK HEI education fair (16th June) as part of the Great British Festival, organised by the British Embassy to celebrate the Queen's birthday. It was particularly pleasing to see a full representation of the COMPASS project, delivered by Professor Shadurski (Dean of International Relations BSU), Dr Artsiom Nazaranka (School of History BSU), and many staff and students who visited Kent on ERASMUS+ exchange during 2017/18.
GCRF COMPASS at the 3rd Annual Tartu Conference on Russian and East European Studies, Tartu University, Estonia, 10 – 12 June 2018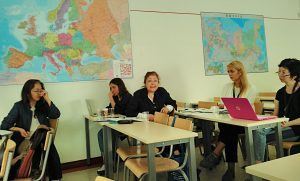 Researchers of the GCRF COMPASS project attended the 3rd Annual Tartu Conference on Russian and East European Studies in Tartu, Estonia. The team presented their work in two panels organised by the project. The panels built on Kent's partnership with the University of Tartu as part of the H2020 Twinning UPTAKE project. The panels' aim was to discuss different challenges for regional security and capacity-building in the region – in line with the project's key themes.
The consortium's participation in the conference was the first collective event regarding Research Integration. We aim at regular joint participation in conferences from now on, and will also work on joint outputs as a result of partners' participation.
Researcher presenting their work were: Anar Valiyev (ADA University), Munira Shahidi and Nargis Nurulla-Khozhaeva (Tajik National University), Akram Umarov and Sherzod Abdullaev (UWED), Leonardo Pataccini (University of Tartu), Roza Turarbekova (Belarusian State University), and Eske van Gils (University of Kent). The panels were chaired by the project's PI Elena Korosteleva.
More information can be found on the conference website.
British International Studies Association, Bath, 13 – 15 June 2018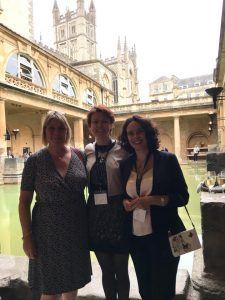 Professor Elena Korosteleva (PI, Kent), together with Professor Trine Flockhart (SDU), GCRF COMPASS AB member, have participated at the joint roundtable titled 'Resilience as a New Security Strategy: Challenging the Foundations', at British International Studies Association (BISA), Bath (13-15 June 2018). The panel focussed on understanding change in global order, and the role of resilience as a new EU global security strategy, its multiple meanings and practices. The core argument was to draw attention to the domestic level, and the role of community in strengthening resilience and building capacities to withstand uncertainty and crises. Other participants of the roundtable included Dr Ana Juncos (Bristol) and Prof. Jonathan Josef (Sheffield, co-author); and Dr Elena Pavlova (Tartu/St Petersburg). Prof. Ben Tonra (UCD) had to table his paper, in absentia.
Interpretative Methods Training Course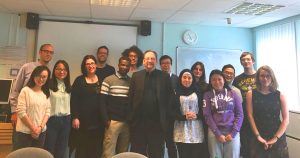 From 9th to 11th May, Dr Eske van Gils attended a training course on interpretive methods at the Centre for Political Ethnography (University of Southampton). The training, organised through the NCRM was led by Professor Rod Rhodes and focued on among others interpretive theory, textual analysis,conducting fieldwork, and dissemination of findings. Eske also presented her own work on Azerbaijans's foreign policy. The training was funded by the University of Kent Graduate School's Postdoctoral Research Fund.
Talk by Bakhtiyar Aslandbayli
As part of their links with Azerbaijan, Cambridge hosted a talk by Bakhtiyar Aslandbayli, Vice President BP (Azerbaijan, Turkey and Georgia) on 27 April 2018. He gave a talk on ' Energy resources of Azerbaijan and export of Caspian energy resources to Europe' (https://centralasia.group.cam.ac.uk/events/AslanbayliTalk).
 Biography:  Mr. Aslanbayli is the Vice President of BP. He is also a Lecturer of the Baku State University and Adjunct Instructor at ADA University. His main areas of expertise are the security, energy geopolitics and fiscal aspects of the energy projects.  He has been a lecturer at Harvard Black Sea Security Program in 2014 and 2015 as well as a frequent speaker at various international conferences on energy geopolitics, protection of critical energy infrastructure, national and regional security issues. Mr. Aslanbayli was awarded the Progress Medal by the President of Azerbaijan (2017) for contribution to the development of the oil and gas industry in Azerbaijan.
Digital Dialogue for Central Asia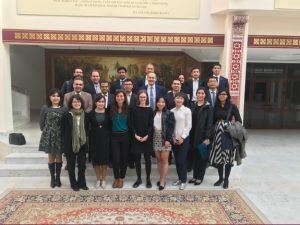 COMPASS's interested in building capacity and cooperation was represented by Dr Saxena, our University of  Cambridge partner at the Cambridge Central Asia Forum who chaired the Digital Dialogue for Central Asia conference in Astana, Kazakhstan, which was attended by Uzbek and Tajik government officials and academics. 
Final Programme for COMPASS Launch in Minsk
The final programme for the COMPASS launch can now be found here
BASEES Annual Conference 2018 (13-15 April 2018)
From 13th to 15th of April, Eske van Gils (Kent) attended the BASEES conference​ in Cambridge. The conference's main theme this year was human rights in Central and Eastern Europe. Eske presented a paper on 'Regime legitimacy and foreign policy in EU-Azerbaijan relations', in a panel together with Levan Kakhishvili (Tbilisi State University) and Gulshan Pashayeva (Centre for Strategic Studies in Baku).
Interviewing Experts on Chinese Political Economy (9-12 April 2018)
Oybek Madiyev conducted several semi-structured interviews with experts on Chinese political economy in Chicago. He discussed about the role of the domestic drivers of China's Belt & Road Initiative, in particular the provinces, the private companies/SOEs, and the academic community.
Participation at the 76th Annual MPSA Conference in Chicago (5-8 April 2018)
Oybek Madiyev attended the 76th Annual MPSA Conference in Chicago. He presented a paper titled 'Making Sense of China's Competitive Investment Strategy in Eurasia' at the pnes 'New Perspectives on Great Power Politics'. The panel included several scholars such as Roger Handberg (University of Central Florida), Martha Ross Dewitt (University of Wisconsin-Madison) and Kuan-Sheng Wu (Purdue University) and Junwoo Kim (University of Chicago).
Participation at ISA Conference in San Francisco (2-7 April 2018)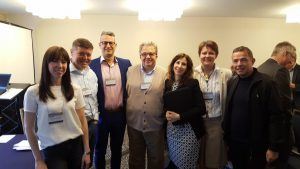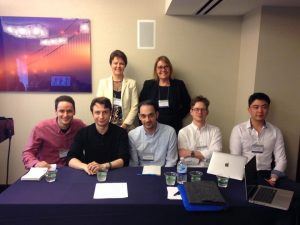 Professor Korosteleva attended this year's ISA conference in San Francisco, which hosted over 2000 participants. Elena presented a paper at the panel 'Resilience and Global Security: European Union and beyond,' which included  international scholars, such as Philippe Bourbeau (Laval, Canada), Ana G. Juncos (Bristol), Ben Tonra (UCD), Rosanne Anholt (Vrije Universiteit Amsterdam), Christian Lequesne  (CERI, chair) and David Chandler (Westminster, discussant). The panel generated a lively discussion into the definitions and genealogy of the concept and difficulties of its application to practice. Elena gave a talk on Resilience as the EU new governing strategy and its controversies. Elena also chaired, along with Professor Flockhart (discussant) a panel on Challenges to International Liberal Order, represented by Kent and Tartu students.
Roundtable discussion with Foreign Minister of Belarus (28 March 2018)
Oybek Madiyev attended a roundtable discussion on 'Modern Belarus and its place in Europe' with Vladimir Makei, Foreign Minister of Belarus, held at the Centre for European Reform. Mr Mkei made some introductory comments on Belarus's strategic choices, including its relateions with Russia, the EU and the UK, followed by a lively off-the-record discussion.
Participation at 'Belarus in the Current Geo-Political and -Economic Processes' (28-30 March 2018)
Professor Korosteleva attended the conference 'Belarus in the current geo-political and -economic processes', organized by the Academy of Social Sciences and KAS in Minsk, on 28-30 March 2018. The conference discussed many challenges that the post-Soviet region, and Belarus in particular, are facing today, in the changing global order. Elena gave a talk on the EU Global Security Strategy, resilience and Belarus' new opportunities for capacity-building, as part of the GCRF COMPASS project.
Professor Thomas Kruessmann
The COMPASS team at Kent is delighted to welcome Professor Thomas Kruessmann, a co-coordinator of the JM Network 'Developing European Studies in the Caucasus, with Tartu University, and Senior Expert in the EU TA project 'Strengthening Teaching and Research Capacity at ADA University'. We hope to work together towards developing capacity of the GCRF COMPASS partners within the JM and ERASMUS+ frameworks in the future.
Tartu Conference (10 – 12 June 2018)
Members of the COMPASS team will present in two panels at the Tartu Conference on Russian and Eastern European Studies on 11 June. Dr Saxena and Professor Korosteleva will chair panels on, 'Challenges for regional security and capacity-building in the eastern region and Central Asia: (I) a domestic perspective'; and (II) an international perspective'.  The first panel will include presentations from Anar Valiyev (Azerbaijan), Munira Shahidi and Nargis Nurulla-Khozhaeva (Tajikistan), Alisher Faizullaev (Uzbekistan) and Andrei Rusakovich (Belarus). The second panel will include presentations from Roza Turarbekava (Belarus), Yauheni Preiherman (Belarus), Oybek Madiyev (Kent), Leonardo Pataccini (Tartu) and Eske Van Gils (Kent). The programme can be found here.
Navroz Celebrations in Cambridge (17 March 2018)
Roundtable: On the occasion of the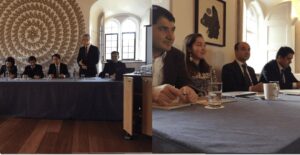 Navroz celebrations in Cambridge, Cambridge Central Asia Forum organised a roundtable on the Silk Roads: Prospects and Perspectives in Jesus College. The event was graced by the presence of Her Excellency Ms Iskakova (Kyrgystan), His Excellency Mr Shaykhov (Uzbekistan), His Excellency Mr Jawad (Afghanistan), Head of Mission from Tajikistan to the UK Mr Qurbonov and First Secretary Mr Annayev (Turkmenistan). The Deputy Vice Chancellor and Master of Jesus College, Professor Ian White opened the roundtable with a welcome speech. Professor Nolan and Dr Fennell along with other academics from Cambridge, UCL and University of Kent also gave brief talks.
Cultural Evening: Cambridge Central Asia Forum celebrated an amazing evening of Central Asian culture, music, dance and food on the 17th of March on the occasion of Navroz (new year). The evening was a medley of visual treats and included music and dance from Uzbekistan, Tajikistan, Kyrgyz Republic, Turkemnistan and Kazakhstan. MPhil and PhD students from around Cambridge helped organise this event. The event was sponsored by Jesus College, Embassies of Uzbekistan, Kyrgyz Republic, Turkmenistan and Tajikistan, Cambridge University Kazakhstan Society, Cambridge University Uzbekistan Society.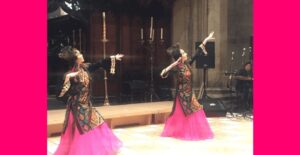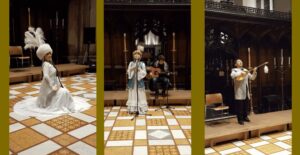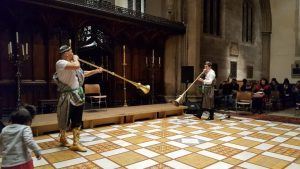 Project meeting with Baroness Suttie at Kent
On 15th March we hosted Baroness Suttie at Kent to discuss the COMPASS project's aims and options for joint cooperation. Baroness Suttie outlined her interest in the region, and in working on strengthening parliaments and administration in particular. She kindly agreed to join the project's Advisory Board, to help oversee future joint initiatives and policy impact in particular. The project meeting was also complemented by a Q&A session with students from the School of Politics and IR, as well as exchange students from the Belarusian State University. Students asked questions about the consequences of Brexit for relations with the Eurasian region, relations between the UK and Russia, and the effect the UK's withdrawal from the EU might have on the Union's foreign and security policy.
  
Kent visit by a team from the Belarusian State University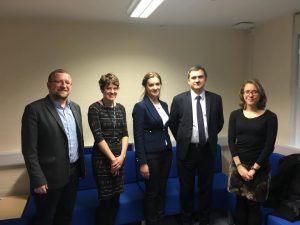 This week (12-15 March 2018) we are proud to host our colleagues from the Belarusian State University (BSU), led by Dr Artsiom Nazaranka. The agenda items included discussing further collaboration under the GCRF COMPASS project and new ERASMUS+ opportunities in the Eurasian region, as well as knowledge exchange about Global Master's programme and research/publication strategies.