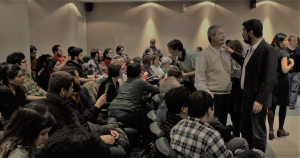 El segundo encuentro internacional de la red "War and Nation: identity and the process of state-building in South America" se realizó en Argentina, entre los días 7 al 15 de Julio de 2016. Los participantes de la red (Natalia Sobrevilla, Claudia Rosas, Alejandro M. Rabinovich, Gabriel Di Meglio, Juan Luis Ossa, Marcela Echeverri y Daniel Gutiérrez) volaron el día 7 a la ciudad de Tucumán, ciudad donde se realizarían las conmemoraciones de la declaración de independencia de la argentina, ocurrida allí el 9 de julio de 1816. El día 8 por la mañana, el proyecto realizó una Mesa redonda internacional, titulada "La independencia en perspectiva. Historiadores tucumanos conversan con colegas latinoamericanos", en la cual los miembros de la red discutieron las dinámicas de los distintos procesos independentistas con los más reconocidos historiadores tucumanos especializados en el período. La mesa tuvo lugar en la Facultad de Filosofía y Letras de la Universidad Nacional de Tucumán y contó con la presencia de un nutrido público, especialmente de estudiantes de historia. Por la tarde se realizaron reuniones internas para avanzar en la programación de las actividades de la red y por la noche se asistió a los festejos oficiales por la Independencia argentina.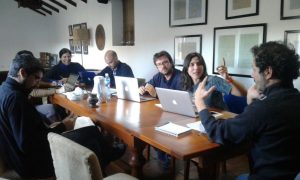 Los días 10, 11 y 12 fueron destinados a un workshop interno, con sesiones de mañana y tarde, en las cuales los miembros de la red presentaron avances de sus investigaciones en curso referidas al proyecto. EL objetivo de estos trabajos es que cada uno de los participantes pueda elaborar un capítulo referido al tema de su especialidad histórica (ideas políticas, participación de los sectores populares, historia militar, etc.) que pueda abordar el período considerado por el proyecto desde una perspectiva absolutamente transnacional.
Ya de vuelta en la ciudad de Buenos Aires, el día 13 se hizo una reunión preliminar con el equipo de producción que llevará adelante la realización del documental histórico del proyecto. Luego, los días 14 y 15, tuvieron lugar los paneles del evento académico principal de este encuentro, el Seminario internacional "Las independencias iberoamericanas. Actualizaciones historiográficas y debates", realizado en la sede de la Universidad de San Andrés y en la Manzana de las Luces. Del mismo, además de los miembros del proyecto, participaron los principales referentes de la historiografía argentina y latinoamericana (Jorge Gelman, Marcela Ternavasio, Elías Palti, Noemí Goldman, Raúl Fradkin, Juan Carlos Garavaglia, Ignacio Telesca, Joao Paulo Pimenta, Ana Frega, Sergio Serulnikov y Gustavo Paz). El seminario tuvo amplia repercusión y agotó los lugares disponibles en ambas sedes.
---