2019
17 June 2019
Religious Unbelief in Life Story Interviews
Oral historian Dr Paul Merchant talked about his aUnderstanding Unbelief project at the British Library, exploring the nature and diversity of unbelief and tips and tools for finding very particular material in large collections of audio archives.
28-30 May 2019
Cultures of Unbelief
As the global population of religious 'unbelievers' continues to grow, the Cultures of Unbelief conference brings together leading academics, leaders of religious and nonreligious groups, journalists, educators and many others to understand what it really means to be a religious 'unbeliever'. Cultures of Unbelief will explore how 'unbelievers' engage with religion, their diverse existential, metaphysical and moral beliefs, and prospects for dialogue and collaboration between believers and unbelievers.
Cultures of Unbelief also marks three significant anniversaries in the academic study of 'unbelief': the 50th anniversary of the Vatican's pioneering 'Culture of Unbelief' conference in 1969; the 10th anniversary of the Nonreligion and Secularity Research Network's (NSRN) 1st conference (Oxford University, 2009); and, the work of the landmark $3m research programme, Understanding Unbelief, funded by the John Templeton Foundation (University of Kent, 2017-20).
***
20 May 2019
Belief and unbelief: Supporting communities in times of national tragedy
As the country's religious composition continues to shift what shape should support take when religious rituals are not relevant to more than 50% of the population? In addition, what do these changes mean for policy makers, media and communities when providing support in times of crisis?
A collaboration between NatCen and the Understanding Unbelief programme this half-day symposium will explore the UKs changing religious composition and deliberate moral leadership in times of crisis.
***
15 May 2019
Reaching for a new sense of connection? The diversity of nonreligion in Europe
In this public lecture at Kingston University London, Professor David Herbert and Dr Josh Bullock reflect on their Understanding Unbelief project which has examined the nature and diversity of unbelief, practice and social connections among nonreligious Millennials in six European countries.
***
Exploring Belief
30 April, London
At the 2nd annual Religion in the Media festival in London Understanding Unbelief researchers and collaborators Drs Lois Lee and Rachael Shillitoe and will lead a session on the mainstage on the work of the programme
---
2018
How should Religious Education respond to a changing religious
landscape?
29 November, NatCen Social Research, London
Dr Lois Lee joined Rudolf Lockhart (CEO of the Religious Education Council for England and Wales), Andrew Copson (Chief Executive of Humanists UK) for a discussion about adapting the syllabuses and practices of Religious Education in Britain to a transforming religious and non-religious landscape.
---
2017
A Nation of Unbelievers?
5 December 2017, 6:30-8:00 NatCen Head Office, London.
Dr Lois Lee was invited to NatCen to discuss whether the nonreligious really are the UK's 'religious' majority – and what this means for society. In September, findings about the nonreligious from NatCen's British Social Attitudes Survey hit the headlines. The data showed that people not affiliating with a religion are now a majority in the UK, and a very large outright majority in the younger age cohorts. In this talk, Dr Lois Lee – a sociologist specialising in the study of nonreligion and atheism – considers what these figures tell us about the British religious landscape. Find out more here…
---
25 November 2017, 15:45-17:00
The Beaney House of Art and Knowledge, Canterbury CT1 2RA
Non-religious people often experience, and revere, the presence of their deceased relatives. Unfortunately, such experiences usually fall into an academic category called 'religious experience', demonstrating how badly misunderstood are today's unbelievers. In this year's NSRN public lecture Professor Abby Day from Goldsmiths, University of London will discuss current research with UK unbelieving ancestor-worshippers and offer cross-cultural comparisons to ask – how can we learn from their experiences to inform us about unbelief, nonreligion and the richness of human experience?
Find out more here…
---
25 November 2017, 13:00-15:30
The Beaney House of Art and Knowledge, Canterbury CT1 2RA
The place of religion in British people's lives is changing – and changing fast. Around half of the population say they have no religion , whilst many others are now exploring religious, spiritual and existential questions outside of traditional religious settings.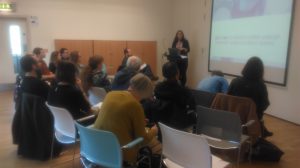 If religious belief is not disappearing per se, it is certainly transforming – and to understand it we need to consider not only what beliefs are being lost, but also what new beliefs people are finding through these dramatic processes of change. We welcome you to the Unbelief Café for an afternoon of talks and activities exploring what it means to be an unorthodox believer or 'unbeliever' in the modern world. Participants have the chance to share and discuss their own beliefs, and to learn more about belief and unbelief from leading experts in the field.
The Unbelief Café was held as part of the 2017 Being Human Festival 17-25 November 2017. Being Human is led by the School of Advanced Study, University of London in partnership with the Arts and Humanities Research Council and the British Academy.
---
Belief and Beyond Belief Festival, Southbank Centre, London: Meaning for Atheists: What do Atheists Believe?
Sunday, 22 January 2017,  Southbank Centre, Belvedere Road, London
A panel of writers, atheists and religious leaders discuss the origins and
underpinnings of atheism, including Nick Spencer, Director of Research at Theos Think Tank and author of a number of books, includeing Atheists: The Origin of the Species; Richard Norman, Emeritus Professor of Moral Philosophy at Kent and co-editor of Religion and Atheism: Beyond the Divide; and Lois Lee, who is Research Fellow at the University of Kent and leads the Understanding Unbelief research programme. Her books include Recognising the Non-religious: Reimagining the Secular and The Oxford Dictionary of Atheism.
This event was held as part of the Southbank Centre's Belief and Beyond Belief festival, a yearlong exploration of  music, art, culture, science, philosophy, ritual and traditions that have risen out of religion in its many guises. Learn more about the festival and its full programme of events here…
---
2016
SSNB Lecture Series: Jewish atheists in foxholes? Phenomenologies of violence and the Israeli-Palestinian conflict
Dr Stacey Gutkowski (Kings College London)
Time: 6pm, Wednesday 7 December 2016
Location: Gustave Tuck Lecture Theatre, Main Building, UCL, Gower Street, London WC1E 6BT
---
SSNB Symposium, 1-2 Dec 2016
The SSNB symposium presented a series of events exploring current and future knowledge of so-called 'unbelief' from the perspectives of anthropology, psychology, sociology, media, policy and law.
SSNB Roundtable: Who cares about unbelief?
Rosie Dawson (BBC Religion and Ethics), Professor Peter Edge (School of Law, Oxford Brookes) and Dr Richard Flory (Center for Religion and Civic Culture, University of Southern California)
Time: 4pm, Friday 2 December 2016
Location: Archaeology G6 Lecture Theatre, UCL Institute of Archaeology, 31-34 Gordon Square, London WC1H 0PY
NSRN Annual Lecture 2016: Is Atheism a Religion?
Dr Miguel Farias (Coventry University), Professor Christopher French (Goldsmiths College, University of London), Dr Jonathan Lanman (Queen's University Belfast) and chaired by Dr Lois Lee (UCL)
Time: 6pm, Friday 2 December 2016
Location: Archaeology G6 Lecture Theatre, UCL Institute of Archaeology, 31-34 Gordon Square, London WC1H 0PY
SSNB Lecture Series: Evangelical and Tablighi Pioneers on Post-Atheist Frontiers
Dr Mathijs Pelkmans (LSE)
Time: 6pm, Thursday 1 December 2016
Location: IAS Common Ground, Ground Floor, South Wing, Wilkins Building, UCL, Gower Street, London WC1E 6BT
---
SSNB Lecture Series: What is a Human?  The American Public's Views and the Impact on Human Rights
Professor John H. Evans (University of California)
Time: 6pm, Wednesday 9 November, 2016
Location: Garwood Lecture Theatre, South Wing (1st Floor), Wilkins Building, UCL, Gower Street, London WC1E 6BT
---
SSNB Lecture Series: Does demography doom the religiously unaffiliated to decline?
Dr Conrad Hackett (Pew Research Center)
Discussants: Andrew Copson (British Humanist Association), and Professor David Voas (UCL Social Sciences)
Time: 5pm, Monday 12 September 2016
Location: Haldane Room, Wilkins Building, UCL, Gower Street, London WC1E 6BT
---
Roundtable: Who cares about unbelief? Social, political and legal questions for the scientific study of nonreligious belief
Chaired by: Dr Lois Lee (UCL)
Time: 8.15am, Sunday 21 August 2016
Location: 78th Annual Meeting of the Association for the Sociology of Religion, Seattle
---
SSNB Lecture Series: Rethinking the 'Technological Sublime': Wright's Urban Planning and Secular Uses of Religion
Professor Courtney Bender (Columbia University)
Discussant: Dr Lois Lee, UCL
Time: 4.30-6.30pm, Tuesday 26 July 2016
Location: Council Room, School of Public Policy, UCL, Rubin Building, 29-30 Tavistock Square, London WC1H 9QU
---
SSNB Lecture Series: Voices and Other Guiding Presences in the Emergence of Four Religious and Nonreligious Social Movements
Professor Ann Taves (University of California at Santa Barbara)
Discussant: Dr Miguel Farias, Coventry University
Time: 3-6pm, Monday 6 June 2016
Location: IAS Common Ground, Ground Floor, South Wing, Wilkins Building, UCL Gower Street, London, WC1E 6BT
---