December 2018
Dr Paul Merchant, National Life Stories at the British Library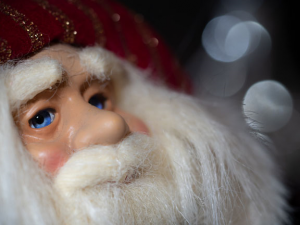 In 1999 a fifteen year old girl was interviewed at her home in Shrewsbury for the enormous BBC/British Library oral history project 'The Century Speaks'. In a bedroom decorated with X-Files posters – partly reflecting her belief in government conspiracies – she spoke with considerable charm about other beliefs, including the belief in 'a spirit of Christmas'. Keep reading here…
Dr Paul Merchant, National Life Stories at the British Library
'The complexity of religious identity and religious unbelief within individual British Hindus'
At the British Library – accessible through its Listening and Viewing Service – there is a rich, untapped resource for those interested in religion and global society. Called Millennium Memory Bank, it is a collection of 5,439 life story interviews with people across the UK, aged between 5 and 107, from a range of social, ethnic and religious backgrounds, recorded in 1998 and 1999 in the BBC's Millennium Oral History Project – 'The Century Speaks'. As part of a study of unbelief in oral history collections, supported by National Life Stories and the Understanding Unbelief programme at the University of Kent, I have been searching Millennium Memory Bank for moments in which interviewees from non-Christian backgrounds – often born in countries other than the UK – talk about not believing in God and/or their lack of engagement with religion. In particular, I have attended to what Understanding Unbelief calls 'hybrid configurations' of unbelief within individuals. Keep reading here…
---
November 2018
Dr Paul Merchant, National Life Stories at the British Library
'Valuing religion without believing'
In a recent collaboration between National Life Stories at the British Library and the Understanding Unbelief programme at the University of Kent, I have been exploring three collections of oral history interviews at the British Library for moments when interviewees talk about not believing in God or gods, lack of interest in and/or engagement with religion, and existential beliefs held in the absence of religious belief: C1364 'An Oral History of the Water Industry', C409 'NLSC: City Lives' and C900 'Millennium Memory Bank'.
This may, at first glance, seem a curious, even eccentric endeavour. But unbelief itself is far from eccentric – the majority of people living in the UK say they have 'no religion' and all evidence suggests that most of these are also either atheist or agnostic. Furthermore, as the 'background' to the Understanding Unbelief programme makes clear, the work is necessary as very little is known about religious unbelief, beyond the well-known public arguments of the New Atheists and other high-profile commentators. Keep reading here…
---
October 2018
Dr Paul Merchant, National Life Stories at the British Library
'Religious unbelief in the life of Professor Sir Fred Holliday'
Over half of respondents in the most recent British Social Attitudes survey indicated that they have 'no religion'. All evidence suggests that the majority of this group are also either atheist or agnostic. We are able to say, then, that religious unbelief affects a very significant proportion of British people, but what else can we say about it? Religious Unbelief is little studied and not well understood, a situation that the £2.3m Understanding Unbelief project at the University of Kent seeks to change.
In a partnership with the Understanding Unbelief project, National Life Stories at the British Library is examining some of its collections of oral history recordings, with unbelief firmly in mind. What do interviewees – recorded in projects with no particular focus on religion – say about their lack of religious belief? This blog reports on one discovery: the presence of unbelief in an interview with Professor Sir Fred Holliday, recorded in a number of sessions between 2009 and 2011, part of the collection 'An Oral History of the Water Industry'. Keep reading here…
---
September 2018
Dr Paul Merchant, National Life Stories at the British Library
Sound and Vision Recording of the Week: Nearly twenty years ago, on the 4th of March 1999, an interviewer working for BBC Radio Thames Valley's contribution to the enormous BBC Millennium Oral History Project – 'The Century Speaks' – visited a local school to interview an 11 year-old girl. She was one of the youngest interviewees among a UK 'sample' of over 5000. The opening question produced a response which clearly surprised the interviewer, listen here…
---
June 2018
Dr Theodoros Kyriakides, and Dr Richard Irvine, The Open University, UK
'Just out of reach: magic, opacity, and unknowability'
"But what do you mean by magic?" There's a long pause in the conversation; the anthropologist wonders whether they've asked the wrong question. "Well I suppose I mean… well, magic… like Eynhallow." To those familiar with Orkney, this small 'holy island' is rich in stories: once upon a time a coming-and-going island, rising from the sea only to disappear, until it was won over from the shape-shifting finfolk by the use of holy salt. Still the island retains an uncanny quality: in 1990 two people were said to have disappeared into thin air after 88 were counted off an excursion ferry to the uninhabited island and only 86 were counted back on. Keep reading here…
---
May 2018
Dr. Josh Bullock, University of Kingston, London, UK
I've just returned from Poland and with the help from Liberté, Świecka szkoła (Secular School), Stowarzyszenie Ateistyczne | Atheist Association Poland, swieckaszkola and Fundacja Wolność od Religii (Freedom from Religion Foundation) among many other organisations I was able to speak to several people on my research trip to Warsaw.
Bullivant (2018) reports from the ESS (2014-2016) that only 17% of Polish young people (aged between 16-29) identify as having no religion. Rather exceptional when compared to their neighbours to the south (Czech Republic) & the West (East Germany) as Bullivant notes that not only does Poland 'have a very high proportion of Catholic affiliates, but they exhibit remarkably high levels of actual practice: almost half attend Mass at least weekly, and only 3% never attend'. Keep reading here…
---
March 2018
Dr. Josh Bullock, University of Kingston, London, UK
'Bleigießen, you know it'? "Lead pouring", the interpreter tells me as the participant shows me a photo on her phone. It's a New Years Eve custom we sometimes do. She goes on to explain, once the lead has melted on your spoon over a burning candle, you drop it into cold water and it makes a shape. You then interpret the shape and it will tell you what the new year will bring. Similar to the reading of tea leaves or tarot cards, I ask, is this just for fun? Or do you believe the shape of the lead will hold some truth over what is to take place the following year? She smiles, I expect her to reply 'just for fun, of course', but she does not, she remarks 'some truth'. Keep reading here…
back to top
Dr Theodoros Kyriakides, and Dr Richard Irvine, The Open University, UK
'Anti-authoritarian unbelief: or, not being told what (not) to believe'
Walking through the old town of Nicosia, perched between two olive trees, Theo encountered graffiti of a snarling creature with red eyes in the grounds of a church. Besides the illegible signature of the artist there is no text accompanying the image, but the demonic imagery and its strategic placement – directly facing the north façade of the church – leaves little room for interpretation. Surely this is an act of resistance and opposition to the yellow limestone and hagiographies of the aging building?
Such imagery serves as a background to the everyday discourse of unbelief, especially among the youth of the city. But why would non-believers revel in such apparently occult imagery? This might seem contradictory, given that unbelievers, by their very nature, are thought to tend towards rationalism as a set of logical ideas and assumptions about the world. Keep reading here…
back to top
Dr. Josh Bullock, University of Kingston, London, UK
#1 'We All Believe In Stroopwafel'
I have just completed the first five interviews in the Netherlands and considering the majority of the population self-identify as being nonreligious it was to no surprise that I was told by a Dutch Facebook group that 'we all believe in Stroopwafel'. Speaking of which, I had my first fresh stroopwafel and given the taste sensation, warrants some kind of belief in… I'm sure.
I spent time with nonreligious participants in The Hague, Rotterdam, Groningen and more rural areas in the North – without stepping foot in Amsterdam. We shared a drink, had wonderfully deep conversations about their beliefs and values, and I thank them for their hospitality – including the B&B owner I stayed with, making sure I had my cheese sandwich he made – packed away for my travels each day. Keep reading here…
back to top
---
October 2017
Dr Theodoros Kyriakides, and Dr Richard Irvine, The Open University, UK
In 2013, Nathan Coley's art installation "A place beyond belief" was brought to Orkney's shore. The words provoke: what does it mean to be a place beyond belief? One interpretation, enhanced by the juxtaposition of the sign with spire of the redundant church behind it (now Stromness' Town Hall), is that here is place where church membership, and apparently the relevance of religious belief itself, has declined dramatically. As Steve Bruce has outlined in his book Scottish Gods, the story of the Scottish islands, in keeping with the rest of the UK, has been one of increasing disengagement from organised religion; non-belief emerging as the norm. In this sense, it is becoming a place beyond belief. Yet for those who described the sculpture in its Orkney setting, another interpretation presented itself: here was a place of wonder, a place beyond our limited capacity for belief. A magical place, even. Keep reading here…
back to top