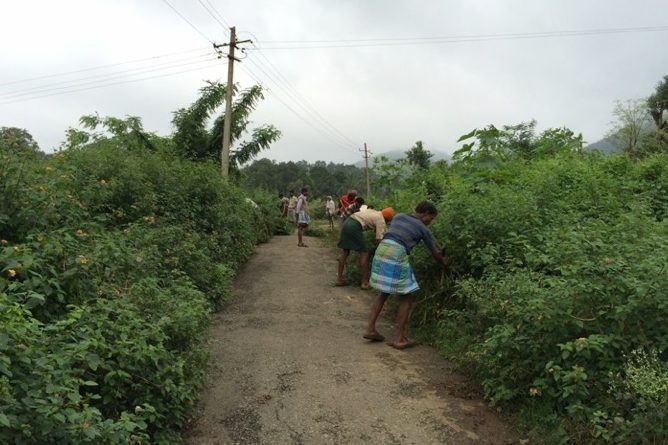 How people are adapting to changes in biodiversity within societies that are highly dependent on nature?
Professor Patricia Howard, Professor Michael Fischer, Dr Rajindra Puri.
2010 – on going
Funded initially by Ecosystem Services for Poverty Alleviation ESPA Programme Framework Grant 2010-2012.
This project's aim is to develop conceptual frameworks, methods and integrated models that promote understanding of how people are adapting, at household and community levels, to changes in biodiversity and related ecosystem services within societies that are highly dependent on biodiversity. This should help to better predict outcomes of biodiversity change for biodiversity, ecosystem services and human well-being. It should begin to provide researchers and policy makers with tools to better understand and support adaptation 'from below'.
We began by conceptualising the following:
How people perceive and understand such change (local knowledge systems and monitoring capacity),
How they value such change,
How biological resources and ecosystem services function as livelihood assets and are affected by such change,
How people actually respond to risks and what affects their ability to respond,
How people's adaptation in turn affects ecosystems, biodiversity, and the services that these provide; and
How this in turn affects their well-being.
The project joins partners from anthropology, economics and ecology at Kent, SOAS, and Oxford, with ATREE in India and Rhodes University in South Africa.
We chose invasive species as a good proxy for biodiversity change that can alter ecosystems in unexpected ways. Fieldwork was conducted in India among Soliga and Lingayat farmers who must adapt to the invasion of Lantana camara, in the Male Madeshewara Hills of southern Karnataka.
Lantana camara is accelerating a trend toward reduced dependency on forest resources in favour of cash crops and wage labour in quarries, plantations and factories. L. camarahas affected key ecosystem services in this area in a number of important ways. First, it has reduced the abundance and accessibility of bamboo for basket making. Second, it has impacted important grazing areas. Cows, a sacred, cultural and economic resource, provide an annual income from calves, collateral for short-term loans, fund weddings and provide long term security, but they are increasingly difficult to graze since L. camarahas reduced the amount and accessibility of the traditional grazing resource: forest grasses. And, third, L. camara chokes the forest undergrowth, which reduces people's access, mobility, and the visibility of wildlife, such as leopards, tigers, bears and wild elephants. The subsequent rise in accidental human wildlife encounters, some leading to injuries and fatalities, has led to fears and, consequently, reduced forest use as people become afraid.
L. camera also has spiritual and cultural impacts. It has transformed attitudes toward the forest and threatens the traditional knowledge that supports forest livelihoods and values. This scourge of L. camera is often explained in religious terms, as a devil, or evil god, that has come to their lands from afar.
So far, results indicate that change in biodiversity and related ecosystem services (especially provisioning services) are having a substantial impact on livelihoods, asset portfolios, and subjective well-being, including emotional well-being, a sense of adaptive capacity, and cultural identity. Adaptation through increased mobility, livelihood diversification (including toward increased use of L. camara for manufacture, fuel, etc.), pooling (cattle) and rationing (grazing areas) resources is evident. People would likely be more impoverished today if they hadn't diversified their livelihoods in response to L. camara. However, differences in Soliga and Lingayat adaptation strategies show that differences in culture, knowledge, values, and attitudes affect people's responses to change. Allowing for these influences presents major challenges for policies and programmes seeking to support human adaptation and conserve biodiversity.
There are as yet many questions and issues that science must address. While we can readily demonstrate the important ecological and economic impacts of change in biodiversity and ecosystem services affecting diets, health, and incomes, the impacts on culture, knowledge, values, and emotional attitudes appear to be just as important, yet are much less understood. How people's adaptive strategies feed back into biodiversity change and change in ecosystem services (e.g. by reducing forest grazing, combating the invasion on farm land, reducing bamboo exploitation, etc.) remains to be explored.
Look out for our AMBIO special issue on Human Adaptation to Biodiversity Change in 2019!
Publications and Presentations:
Thornton, T.F., Puri, R.K., Bhagwat, S.A., and P. Howard. 2019. Local Adaptation to Biodiversity Change: An Integrated Processual Approach Applied to a Case Study from Southern India. Ambio Special Edition: Human Adaptation to Biodiversity Change.
Puri, R.K. 2016. Outsourcing the Sacred Cow: Disentangling local responses to social and ecological change in the Male Mahadeshwara Hills, South India. UCL Anthropology: Human Ecology Research Group Seminar, 29th November 2016.
Kent, R. and A. Dorward. 2015. Livelihood responses to Lantana camara invasion and biodiversity change in southern India: application of an asset function framework. Regional Environmental Change, 15(2): 353-64.
Puri, R.K. 2015. The uniqueness of the everyday: Herders and invasive species in India. In Barnes, J. and M. Dove, eds., Climate Cultures: Anthropological Perspectives on Climate Change. Agrarian Studies Series. Ch 10: 249-72. New Haven: Yale University Press.
Bhagwat, S.A., Breman, E., Thekaekara, T., Thornton, T.F. and Willis, K.J. 2012. A battle lost? Report on two centuries of invasion and management of Lantana camara L. in Australia, India and South Africa. PLoS ONE, 7(3).
Dorward, A.R. & Kent, R. 2012. Livelisystems: conceptualising social, biological and ecosystem change and 'development.' Working paper, Centre for Development, Environment and Policy. London: SOAS, University of London. Submitted to Ecological Economics.
Kent, R. and Dorward, A.R. 2012. Conceptualising assets and asset services in livelihoods and ecosystem analyses: a framework for considering livelihood responses to biodiversity change. Working paper, Centre for Development, Environment and Policy. London: SOAS, University of London. Submitted to Ecosystem Services.
Kent, R. and Dorward, A.R. 2012. Biodiversity change and livelihood responses: ecosystem asset functions in southern India. Working paper, Centre for Development, Environment and Policy. London: SOAS, University of London. Submitted to Society and Natural Resources.
Puri, R.K. 2013. Crafting in a changing environment: The consequences of the invasive plant Lantana camara for Solega basket production and trade. CHAGS. Liverpool, UK, June 25-28th, 2013.
Howard, P. 2013. 'Human Resilience In the Face of Biodiversity Tipping Points at Local and Regional Scales', in O'Riordan, T. and T. Lenton (eds.), Tackling Tipping Points. Oxford University Press. PDF Draft
Puri, R.K. 2012. Looking for Soliga responses to Lantana camara invasion. International Congress of Ethnobiology, Montpellier, France, May 20-26, 2012.
Puri, R.K. 2012. A climate change surprise? Approaching climate anthropology through conceptualising human responses to biodiversity change. Workshop on Climate Change and the Social Sciences, Yale Climate & Energy Institute, Yale School of Forestry & Environmental Studies, Yale University, New Haven, USA, April 27-28, 2012
Howard, P. 2012. Human Adaptation to Biodiversity Change: Building and Testing Concepts, Methods, and Tools for Understanding and Supporting Autonomous Adaptation. ESPA Project Highlight, ESPA Newsletter, March. Accessed April 16, 2012. Newsletter.
Howard, P. 2009. Human Adaptation to Biodiversity Change: Facing the Challenges of Global Governance without Science? Amsterdam Conference on the Human Dimensions of Global Environmental Change, 'Earth Systems Governance – People, Places, and the Planet'. Manuscript here.