Feasibility study of Keep Safe Group CBT for Young People with Intellectual Disabilities and Harmful Sexual Behaviour
Research Team: Prof Glynis Murphy, Dr Rowena Rossiter and Aida Malovic
The team worked collaboratively with a number of children and young people's services including North Bristol NHS, St Andrews Healthcare, NSPCC, Northumberland, Tyne & Wear and Barnardo's. The funding for the project was granted by the Paul Hamlyn Foundation.
In short, this is a multi-site feasibility trial looking to develop and evaluate the Keep Safe group intervention, devised for young people with intellectual disabilities who display harmful sexual behaviours.
Research
A synopsis of the project  
The focus of this feasibility study is to evaluate accessibility, acceptability and appropriateness of Keep Safe, a group Cognitive Behaviour Therapy (CBT) treatment for harmful sexual behaviour in young people with intellectual disabilities (ID). Children and young people are thought to commit 30-35% of all sex offences, and it is estimated that those with intellectual disabilities are over-represented among these perpetrators (Hackett et al., 2013; Vizard et al., 2007). Significant proportions of these children and young people have mental health needs, and/or neuro-developmental and behavioural disorders, and they experience inequalities in physical and mental health (Emerson & Baines 2010) and social "injustices". These inequalities include increased victimisation from bullying and abuse (including sexual abuse) against themselves as victims, as well as poverty and social deprivation (CAF 2011, Emerson et al 2012).
Group CBT is an effective intervention for adult sex offenders (Aos, Miller & Drake, 2006; Kenworthy et al, 2003). One such programme, SOTSEC-ID (Sex Offender Treatment Services Collaborative – Intellectual Disabilities), has been successfully trialled for men with ID and sexual offending. Completion rates were high (over 90%). Following the intervention, sexual knowledge and victim empathy increased, cognitive distortions reduced and repeat offending was low (Murphy et al 2009, 2010). SOTSEC- ID groups are delivered in the community and security settings for adults with ID.  SOTSEC-ID provides coordination, training and peer supervision for therapists running the groups.
The lack of assessment and intervention programmes and research for children and young people with ID who display harmful sexual behaviours (HSB) was recognised by the SOTSEC-ID group as many of the adult participants had long histories of harmful, unlawful sexual behaviours stretching back into their childhoods/adolescence.  Consequently, ySOTSEC-ID ('y' for Youth) was established as a subgroup to begin to share knowledge and experience of working with children and young people with ID and to develop a similar intervention protocol to that evaluated for adults with ID.
It was already known that group CBT was an effective intervention for non-disabled children with problematic sexual behaviour (Carpentier et al 2006). CBT has also been adapted and used successfully with children and young people with ID and psychological difficulties not including harmful sexual behaviour (Andrews et al, 2010; Rossiter et al, 2011).  Thus there is every reason for thinking that CBT treatment for young people with ID and HSB will be helpful, but systematic research is needed. This study, led by members of ySOTSEC-ID is designed as a feasibility trial, prior to developing a proposal for a fully powered trial. The proposed study aims to begin to address the gaps in evidence-based service provision for adolescents with Intellectual Disability and harmful sexual behaviours.
Method
This study is a multi-site feasibility trial of the Keep Safe group. As a feasibility trial, the evaluation focuses on the acceptability, accessibility and appropriateness of the Keep Safe treatment group and the measures. Completion rates and attrition will be key variables. As this is a feasibility trial, there is no control group or randomisation. The change between pre-group and post-group scores on the adapted measures of sexual knowledge, cognitive distortions, empathy,  loneliness and resilience will be examined and be used to calculate effect size and sample size for a larger trial in 2016.
The Keep Safe programme 
The Keep Safe group treatment manual draws on the slim practice-based evidence available and collates expert opinion of practitioners/service users and networks. It maximises accessibility and acceptability through young person friendly visual, concrete, creative materials with active learning and role-plays. Modules include social and therapeutic frameworks, the Good Way Model as applied in New Zealand, simplified Good Lives model;  understanding feelings, relationships and sex education, cognitive-behavioural models for general and sexual offending, victim empathy (including participants' experiences of victimisation), relapse prevention  (personalised Keep Safe plans) and follow-up. There will be significant involvement of parents/carers.
Posters
Keep Safe 2014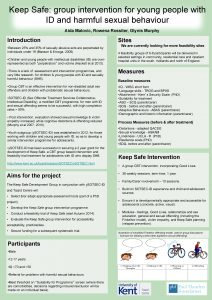 Project findings
The project is still ongoing and is due to be completed at the end of spring 2016. As a group programme, it will be run by 4 feasibility sites. The young people's modules are spanning over 36 sessions, the parents/carers are attending 12 sessions some of which are conjoint with the young people. The feedback from the clinical teams has been very positive so far.
The final report will be available March 2016.