Ballet burst; an intervention study to improve health and fitness in people with intellectual disabilities
Research Team:
Dr Paraskevi Triantafyllopoulou, Melina Aikaterini Malli, Moffat Louis & Prof Glynis Murphy
Research
Aims: A high percentage of inactivity and low levels of health outcomes are reported for people with intellectual disabilities (ID). The aim of the current study was to investigate whether ballet would improve the weight, balance, self-esteem and overall quality of life of people with ID via identifying differences between the intervention and the control group.
Method: A pilot randomised control trial was conducted with participants being assigned to either a ballet intervention group (n= 15) or a control group (n= 16). The intervention group received 1-hour weekly ballet sessions for 26 weeks.  BMI, waist and hip circumference was obtained for all participants. The balance was assessed via the Timed Up and Go test as well as the Berg Balance Scale. Self-esteem and quality of life were assessed via the adapted Rosenberg Self- Esteem Scale and Cummins' Comprehensive Quality of Life Scale respectively.
Results: No differences were found between the intervention and control group; however, an improvement in balance was shown for the intervention group. 
Conclusion: In order to reach any valid conclusions the study needs to be replicated with increased power and objective assessment tools.
Posters
Ballet burst poster 2014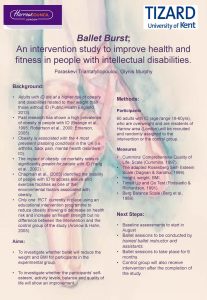 Findings
No data is available yet.