MAPURBAN Berlin pursued two objectives: on the one hand, we aimed to capture an institutional policy perspective by conducting expert interviews with governmental and non-governmental actors. On the other hand, the focus was on the inclusion of subaltern perspectives. For this purpose, we planed to conduct a series of participatory mapping workshops with people in and around refugee shelters. These were taking place in three BENN neighbourhoods. The preparation and implementation of the participatory mapping workshops will be realised together with the collective Orangotango project and Dr. Ingeborg Beer as well as the Berlin Senate Department for Urban Development and Housing.
Main Conferences
Final Event of the Berlin MAPURBAN Project (with international partners), June 16, 2022
Opening of the Mapping Arrival Exhibition
Panel Discussion with local stakeholders and policy makers
Public Presentation from MAPURBAN project partners
At Aquarium in Berlin Kreuzberg
Workshops and Seminars
Participatory Mapping
Berlin workshops in two different Berlin neighbourhoods: Neu-Hohenschönhausen & Britz
In Hohenschönhausen we worked with a women group who regularly meet on a weekly basis
In Britz we did a holiday workshop for children in a youth centre with a variety of methods
Participatory mapping as method
Aims to reflect power structures and hierarchies in space and show affective relations to place
Generates new spatial knowledge
Enhances agency of "lay cartographers"
Enhances exchange through collective mapping process
Shows emotions and subjective meanings to urban space
Academic: Critical Mapping Exchange
Exchange on the method of critical and participative mapping
Kick-Off-Meeting: 2 December 2021, online
Workshop: 1 March 2022, online (participants: Susanne Wessendorf, Malte Gembus, Heike Hanhörster, Miriam Nessler, Elisabeth Kirndörfer, Kathrin Hörschelmann, Lea Haack, Antonie Schmiz – organiser, Sylvana Jahre – organiser)
Participating Institutions: Universität Bonn, Coventry University, Institut für Landes- und Stadtentwicklungsforschung Dortmund, FU Berlin
Workshop "Critical Mapping – Methodological Reflections" at the annual IMISCOE conference in Oslo, June 29 – July 1
Public Events and Exhibitions
"Mapping Arrival" Exhibition
Opening at Aquarium, Berlin Kreuzberg, June 16
Opening at BENN office, Hohenschönhausen Nord, Berlin, September 7, 2022
Exhibition in the BENN office of Hohenschönhausen Nord for the month of September 2022
Opening Mapping Arrival, Freie Universität Berlin, Department of Geography, November 15, 2022
Exhibition in the Department's main foyer until December 5, 2022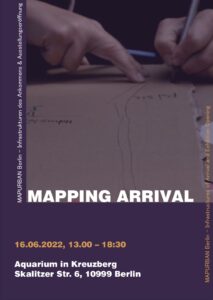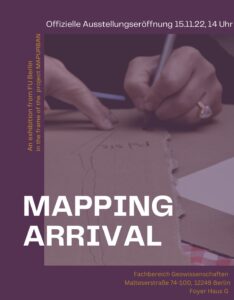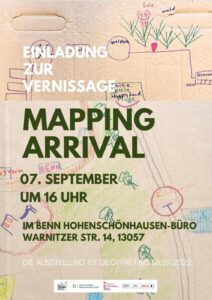 Karte and Kopf News Article   (See link to article: here)
"Berlin is growing – almost 3.7 million people now live in the city. Many of the new Berliners come from Brandenburg, some from Swabia, from Spain, others from the USA or from Afghanistan, Iraq and Syria. Berlin is a city of migration stories.
"It is often not easy for people who come from another country, another culture, to find their way around and to call the metropolis their new home. They all have spatial experiences in the city that are ingrained in their minds. Scientists want to record and evaluate these subjective maps as part of the MAPURBAN research project."
MAPURBAN Berlin Research Team
Head of subproject FU Berlin: Prof. Dr Antonie Schmiz
Berlin Research Coordinator: Sylvana Jahre