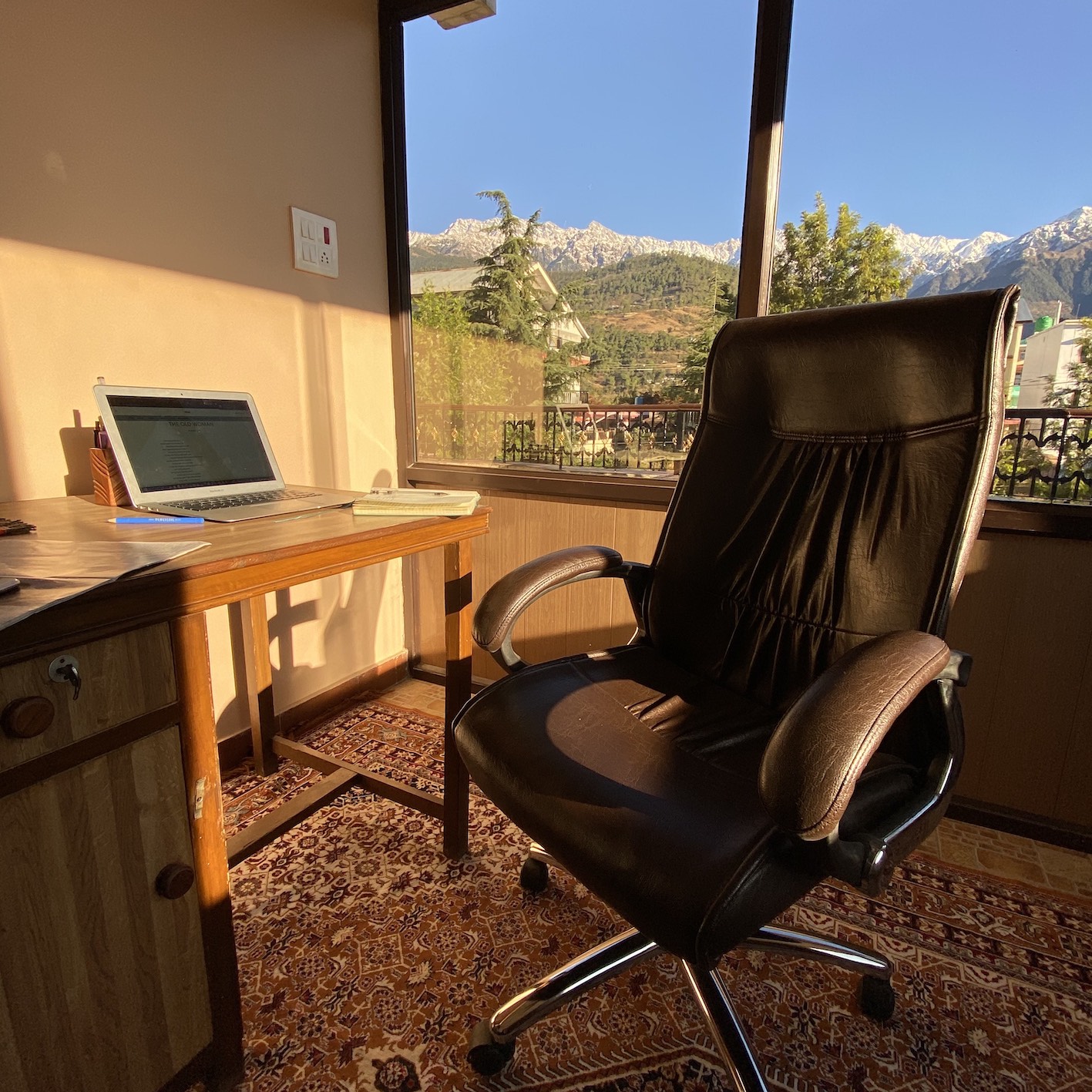 I have started to believe that for the writing to happen gently to me, (a) I need to be on a desk that is not facing any window, (b) if I am writing on my laptop, it might be best if it is not connected to the Internet. This is how I survived my MFA year in Belfast at least. This is also how most of the poems in my most recent book 'The Yak Dilemma' (Makina Books, London) came into existence. While creating a world of my own when I am writing, I perhaps find a glimpse into the 'real' world too distracting, too overwhelming.
I was a big fan of shutting off myself from my surroundings in coffee shops around the world, i.e., when it was still possible to do it without labelling it as a health hazard. Alas!
I am currently writing out of Palampur, this little city in the mountains of North India where I was born. Every time I have returned to this 'home' of mine from somewhere slightly more urban, more concrete, I have felt this latent pressure to experience nature in all the ways I had not experienced before. That is why, I considered it appropriate to move an unused study desk (which my father used in his childhood) to an unoccupied room on the topmost floor of this house, near a big glass window that overlooks the Dhauladhars, the mountains without any obstruction. I seldom sit there after a few months of being 'home' now. I am always feeling too cold or too hot in this territory that is supposed to be too beautiful for its own good. This sweet indifference to the nature that cocoons us is a product of our own forbearance.
I have been daydreaming of a box lately. The box does not exist as of now. But, in my head, I am adamant to make it real. Here are the contents of this box: (a) an audio cassette of Harbhajan Mann from the early 2000s that my Mum loved the most, (b) a picture of my Mum and Dad posing in front of Norah Richards's house as newlyweds from the early 90s, (c) a crocheted shawl of the colour of an unlit ivory candle that my Mum wore for as many years as she lived, (d) a black velvet scrunchie resting on my Mum's dressing table, (e) a toy train that my Mum passed on to me—her most prized possession, the only toy from her childhood in the house where I grew up, gifted to her by her father who brought it all the way from Singapore, (f) a postcard in which a Mum and a daughter are facing a window through which several sheep are grazing—I must have purchased it in Galway to send to Mum here but I must have lost it as soon as I wrote my message in it because I found it years later tucked in a book I did not read.
This box is a room where I want to be, where I want to be writing. This room from where I am writing this is a box too. But not the box where I want to be. This house is a result of several boxes tucked together. But the box where I want to be, which is a museum for my Mum, from my memories, is yet to be curated. This box of noise. This box of silence.
Supriya Kaur Dhaliwal is a poet and was the Charles Wallace India Trust Fellow at the University of Kent, 2021
Twitter: @supriyadhaliwal