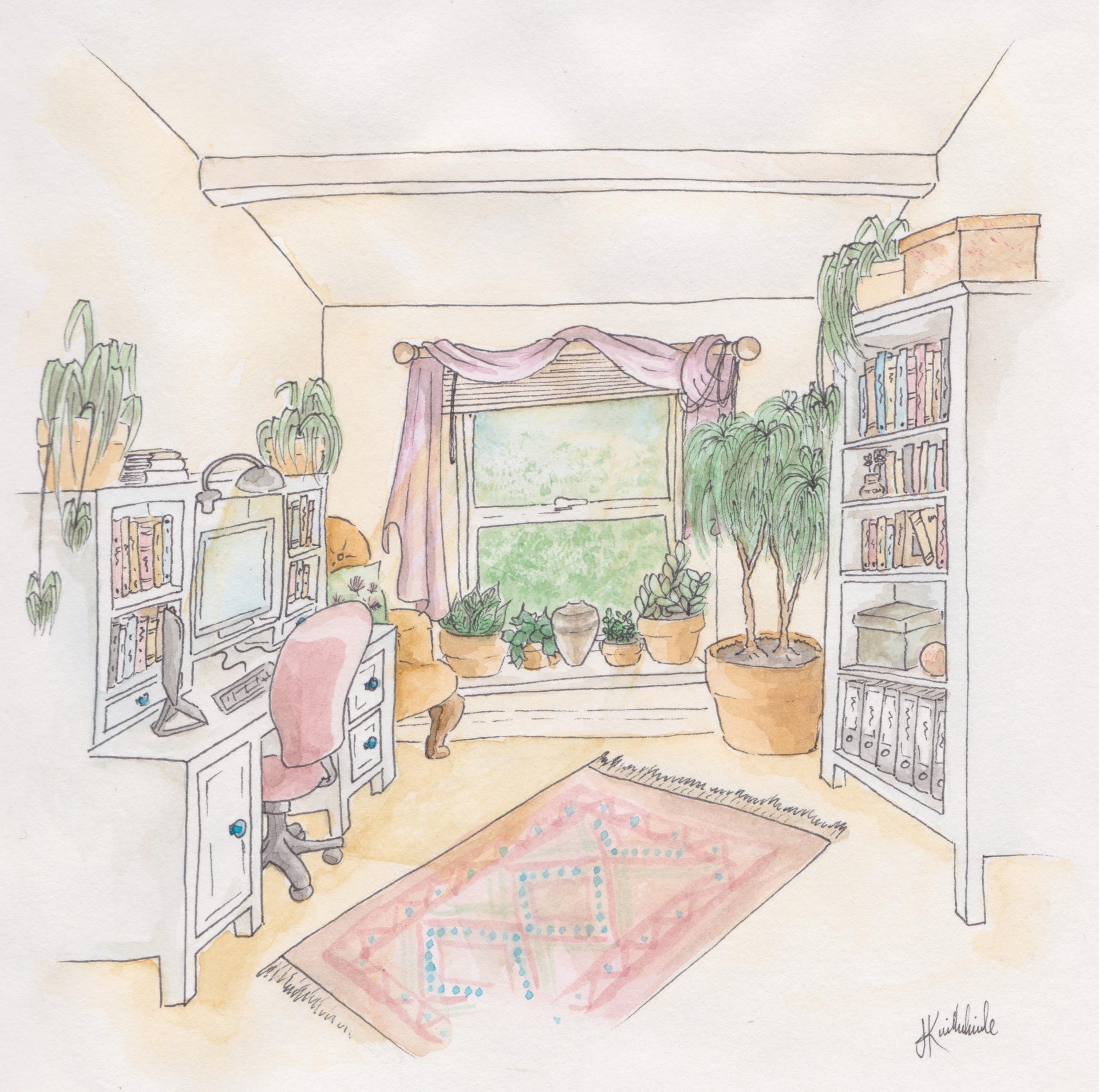 I spent the autumn and winter building a nest, plaiting moss and twigs to my shape. I still can't believe it stays together when the once-sea winds pelt across the Norfolk flats.
My study was the first room I finished, two days after moving, just in time for term to kick back in. The painting makes it look bigger than real life. But the things that make us free are always larger in our mind's eye. Six years freelance, with my job sharing the same psychic space as my bed, but I've finally built a border between work and life. That unassuming door makes a hang of a difference – and just in time. Since I moved in, my whole world's been on this desk: social life; paralegal, editing and teaching work; research; writing… I built a border, but that doesn't mean I can balance it. The pandemic didn't help, collapsing the geographical telescope. Still, I was lucky it locked me down in here.
The neighbours (mid-knowing) and the garden (mid-taming), lie beyond the window. The latter is freshly turfed, and the birds don't know what to do with it. Except for Lady Blackbird, who must be catering for the world's hungriest chicks as she's never content with fewer than seven worms and a centipede. I watch her jousting with the dirt when I can't take the lines of Times New Roman anymore. I don't know whether it's Lady Blackbird who walks about on my study's thin roof when I'm teaching or one of the other neighbourhood creatures — perhaps a cat or a crow — but the footsteps always make my students giggle.
In the corner is a chair handed down from my mum. I planned to read virtuously in it, but its actual use has ended up being cups of tea, knitting, painting, watching the wildlife… The stuff I flit about with when the words get stuck. The desk is plastered with Post-Its designed to stop that happening — concrete and simple, fear is the mind-killer, convey the maximum with the minimum, just relax and tell the story, don't tell me the moon is shining — but how often do bits of writing on paper actually help the production of other bits of writing on paper?
The plants help more. My fledgling jungle. Every good nest should be lined with something green and growing – and it helps to have living things nearby in the Zoom society. People comment on them when I log into video chats, particularly the palm tree. In my old room, I used to have a sketch of a six-antlered deer skull in the background, but no one ever made small talk about that. It just hung out, stalking meetings and workshops.
I'm still getting to know it in here. Autumn revealed a damp problem in the back wall that still isn't fixed; winter that I needed thermal slippers and an extra heater; spring that the sycamore is a gardening nightmare but a visual blessing. But throughout it's been sunny, cosy, quiet. There's a warm, dozy summer ahead, with much gazing out of the big, day-dreaming window. But that doesn't much matter. Writers are always writing, even when their fingers aren't on a keyboard.
Jasmin Kirkbride is a writer doing a PhD on hope in climate fiction at UEA.