Thursday 4th April 2019 Workshop
Creating the Pre-Modern Past: A Collaborative Workshop for MEMS and Creative Writing, with Kat Peddie, Clare Wright and Adam James. 4pm, Darwin, Peter Brown Room.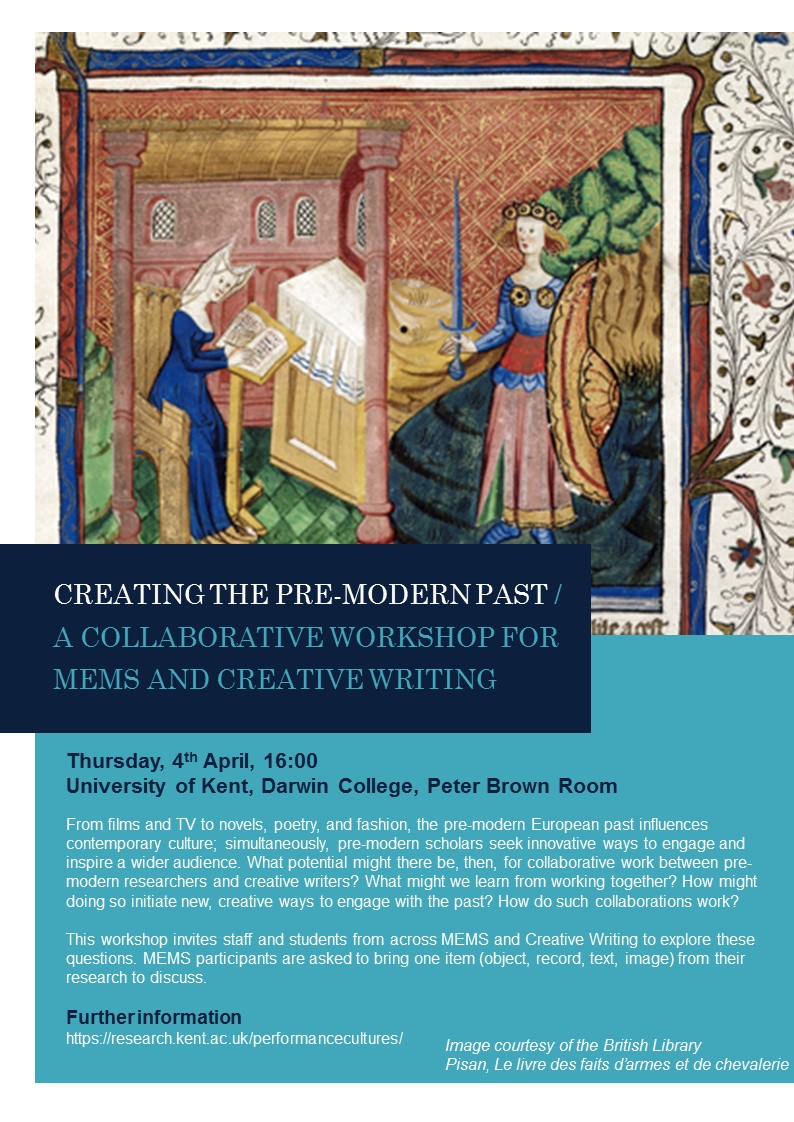 From films and TV to novels, poetry, and fashion, the pre-modern European past influences contemporary culture; simultaneously, pre-modern scholars seek innovative ways to engage and inspire a wider audience.  What potential might there be, then, for collaborative work between pre-modern researchers and creative writers? What might we learn from working together? How might doing so initiate new, creative ways to engage with the past? How do such collaborations work?
This workshop invites staff and students from across MEMS and Creative Writing to explore these questions. MEMS participants are asked to bring one item (object, record, text, image) from their research to discuss.
Registration: https://www.eventbrite.co.uk/e/creating-the-pre-modern-past-a-collaborative-workshop-between-mems-and-creative-writing-tickets-58638711966
Contact: C.Wright-468@kent.ac.uk or @PerfCulturesUKC for more details
Monday 25th February 2019 Workshop
Suit the leader to the word, the word to the gender": Gender and Leadership in Julius Caesar, Isla Hall. 4pm, Darwin, Peter Brown Room.
In this interactive workshop, you'll analyse in teams your character's leadership style in a particular speech, and how their speech style might be gendered.  Then together we'll ask how performative gender, and gender in performance, might influence our implicit bias of women in leadership positions.  This workshop will run for approx 90min and will be of value to anyone interested in Shakespeare, performance, gender and/or leadership; knowledge of Julius Caesar is not required for participation.
John Bale's King John at St Stephen's Church, Canterbury 
Wednesday 20th February 2019
Returning to St Stephen's after nearly 500 hundred years, John Bale's inflammatory play about notorious King John is as controversial as ever. Join the Cultures of Performance research group as we workshop extracts from the play, bringing it back to life, along with some of the atmosphere of Reformation St Stephen's. Featuring music, architectural projections, and some familiar faces from the community, the performance will explore how the play engages with the parish, Canterbury and Kent as they were in the 1540s and how they are today.
Attendance is free. Refreshments to follow.
Further information: english events@kent.ac.uk or @PerfCulturesUKC
This event is kindly sponsored by the Faculty of Humanities, the School of English, and the Centre for Medieval and Early Modern Studies at the University of Kent.
Thursday 13th December 2018 Workshop
Violence and Embodied Performance on the Early Modern Stage, Anna Hegland.  4pm, Darwin, Peter Brown Room.
This practice-as-research workshop will explore violence as it is brought to life on the early modern commercial stage. Using extracts from Thomas Middleton's The Revenger's Tragedy, The Lady's Tragedy, and A Yorkshire Tragedy, and John Ford's 'Tis Pity She's a Whore, it will examine the relationship between words and actions on stage, focusing on stage directions and deictic words as the descriptors of and impetus for movement. It will consider the intersections between rhetoric and performance, and investigate a variety of the ways in which language informs staging.
Medieval Canterbury Weekend, 6-8 April, 2018
On Sunday 8th April, Dr Clare Wright will give a public lecture, 'Beyond the Mysteries: The Place of Performance in Late-Medieval English Culture'. Clare's talk will think about the cultural work of performance by looking beyond the now famous 'mystery' plays of York and Chester, to examine a range of performance events drawn from different English communities between the fourteenth and sixteenth centuries. The lecture will consider the available evidence for these performances (texts, records, images), the wider contexts (spatial, political, festive), and how performance interacted with, spoke or contributed to a community's particular needs or concerns, as well as what all this might tell us about the nature and drama and performance in this period, how it was perceived, understood and interacted with. For booking and more information, visit the Medieval Canterbury Homepage.
Past Events
Cultures of Performance Launch Event and Opening Workshop
On Thursday 12th October 2017, we launched the research cluster. Hosted by the Center for Medieval and Early Modern Studies, we introduced ourselves and our research by running the first of our interactive performance workshops, followed by drinks and discussion.