On Wednesday 27 May 2020, the Department of Modern Languages hosted its third Modern Languages Teaching Forum.
The Forum is designed to bring together teachers of modern languages at all levels to share good practice and discuss the challenges facing the sector, support language teaching and encourage pupils to continue to study languages and develop their confidence. The event attracted almost 200 teachers of languages at secondary and tertiary level, from the UK and across the world.
The theme of this Forum – held online due to the Coronavirus pandemic – was 'Distance Learning in Modern Languages'. The event was recorded and is available via YouTube.
Guests were welcomed by Dr Alvise Sforza Tarabochia, Head of the Department of Modern Languages, and presentations included:
There were also pre-recorded presentations:
Antonella Giacosa (University of Torino, Italy) – From the Classroom to the Virtual Room: Teaching and Learning English at University during the Coronavirus Outbreak
Carla Forero (Radnor House, Sevenoaks) – Using Teams And One Note In Mfl To Set Up Project Work In The Mfl Classroom – forthcoming
Alexis Silvestri – Overcoming the Challenges of Teaching Listening Comprehension in Distance Foreign Language Learning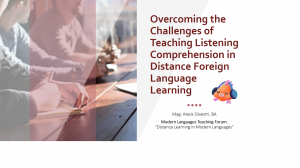 Shared online teaching resources (Google Doc) and additional suggested resources(PDF).
Speaking after the event, Dr Alvise Sforza Tarabochia said: 'Over the past month or so, our classrooms have become virtual, our homes have become our offices and assessment has been delivered online. Socialising and meeting have taken on a completely different dimension. In these times it is all the more important that we continue to foster our bond and exchange ideas and best practice through the Modern Languages Teaching Forum. I am hugely grateful to the speakers and to all those attending for their insightful contributions and look forward to continuing our discussions at the next Forum in the Autumn Term".
The next Forum is due to take place in autumn 2020. Those wishing to receive further updates and take part in ongoing discussion can subscribe to the Forum mailing list.