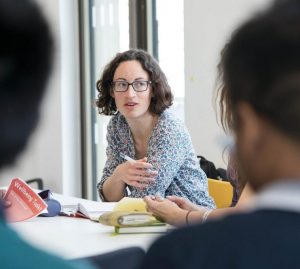 The Department of Modern Languages at the University of Kent offers a mentoring scheme for secondary school students studying languages.
Run by Dr Wissia Fiorucci, Dr Tobias Heinrich and Dr Rebecca Ogden, the project aims to allow students from the University to support pupils in their efforts to increase their skills in one of the four languages currently offered at degree level at Kent (French, German, Italian, Spanish).
This initiative is primarily aimed at those in Year 12 and Year 13, although we welcome keen language-learners in Year 10 and Year 11 and are happy to discuss individual requirements with schools.
Through weekly online tutoring sessions and supported by a range of self-studying materials, students will help pupils to understand more, write flawlessly and speak fluently in their target language.
If you are interested in participating in the University of Kent's free online language mentoring programme, please email Dr Tobias Heinrich at languagementors@kent.ac.uk.