THE TIME, a mobile visual experience that captures the tempo of life during the coronavirus pandemic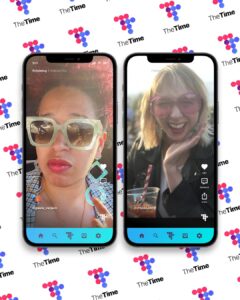 From your morning scroll to an afternoon stroll, THE TIME has a way of making less sense during a global pandemic. Whether you're lost in a loop, the day doesn't seem to end, or you blinked and a month had passed again, there's something a little off for everyone attempting to make sense of THE TIME. Enjoy a recap of the last 18 months and a look to the year/s ahead, all straight to your phone, compressed to a social media friendly length.
THE TIME is a collaboration between artists Paula Varjack and Chuck Blue Lowry with academic researchers in the A Day at a Time project at the University of Kent and Goldsmiths, University of London: Rebecca Coleman, Emily Grabham, and Dawn Lyon with Nadine Hendry, Chloe Turner and Corine van Emerick, working alongside the Mass Observation Project and in partnership with Spread the Word. It is funded by the Leverhulme Trust.
Watch THE TIME here!