The Collaboration
We are working with Incomindios UK on a variety of endeavours, at the heart of which is the Incomindios Lippuner scholarship. On this page you will find details of the scholarship as well as links to videos of joint events (scroll to the bottom). If you would like to contribute to the scholarship fund for the Incomindios Lippuner Scholarship, please contact inco.uk@incomindios.ch 
The Scholarship
This new scholarship for Indigenous students is named in memoriam of long-time supporter of Indigenous rights: Eva Lippuner, who sadly passed away in 2019. Through the Incomindios-Lippuner Scholarship, Incomindios – in partnership with The University of Kent – aims to provide financial support for an Indigenous student as they pursue their degree in the field of Indigenous rights. The Incomindios-Lippuner Scholarship seeks to support Indigenous peoples through the most powerful of tools, education. Incomindios exists with the goal of supporting and promoting global Indigenous communities, their causes, and their rights. We believe that the education of those from these communities is of paramount importance for achieving these goals.
2021 scholarship announcement
Incomindios invites Indigenous students who are pursuing a degree in the field of Indigenous rights to apply to be the recipient of the Incomindios-Lippuner Scholarship 2021.
The call has a specialised focus on Central and South America, however we also welcome applications from North America. The flexible application deadline is 1 June 2021.
2020 Scholarship – Brittani Orona
The 2020 recipient of the scholarship was University of California, Davis student, Brittani Orona. Brittani is an enrolled member of the Hoopa Valley Tribe.  She is currently a Ph.D. Candidate at UC Davis in Native American Studies with a Designated Emphasis in Human Rights. Brittani completed her Master of Arts in Native American Studies at UC Davis in 2018 and her Master of Arts in Public History at California State University, Sacramento (CSUS) in 2014. She graduated with a Bachelor of Arts in History from Humboldt State University in 2010.
Video
Please note these links will take you to the Centre's YouTube channel.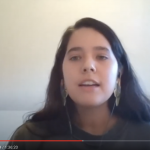 29th October 2020: Missing and Murdered Indigenous Women and Girls Webinar.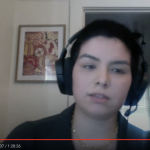 10th December 2020: Brittani Orona, "This is our home, this is our land": Visualizing Decolonization on the Klamath River Basin.