The University of Kent and Northfleet Big Local are hosting a play and wellbeing workshop in St Botolph's Churchyard Northfleet on Friday 1 October, 11am-4pm.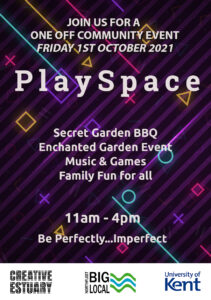 This workshop is part of a study which evaluates how public areas can be turned into play spaces that foster connection and build confidence. The study addresses the increased risk of social isolation in the wake of the pandemic by creating a fun space for people to connect. The play workshop will also reflect on the pressures we face on social media, often the primary space for social contact during the pandemic.
The workshop is free and open for everyone to join. You can warm up with fairground games in the churchyard before delving into the workshop with professional theatre makers – fun hats and props included.
Where?
The St Botolph's Churchyard is in Northfleet, Kent (1 hour from London by train or car). Address: the Hill, Northfleet, Gravesend DA11 9EU.
When?
Friday 1 October between 11am-4pm.  The workshop takes about 30 minutes and will run several times between 11am and 4pm.
Who?
This project is developed by Dr Dieter Declercq (Lecturer in Film and Media Studies, University of Kent), Dr Ambrose Gillick (Lecturer in Architecture, University of Kent), Lauren Mills (actor and writer) and Dylan Tate (theatre and filmmaker).
The workshop is hosted by Northfleet Big Local, a group of residents who have developed an ambitious programme to stimulate community activity in Northfleet North.
This collaboration has been initiated and funded through a recent Creative Estuary Ideas Lab, a series of events designed and facilitated by The University of Essex and University of Kent. These events have brought together a diverse group of academics, artists, technologists, businesses and cultural professionals to form project groups and explore culture-led solutions to contemporary issues across the Thames Estuary.
Contact?
Any questions, please contact Dr Dieter Declercq: dd324@kent.ac.uk